Every six years, farmers vote on whether they want B+LNZ to continue to exist, funded by compulsory levies on sheepmeat and beef (including dairy-beef).
Voting took place between 1 June and midday 9 July 2021. 
All livestock farmers registered on B+LNZ's electoral roll were sent a voting pack in the first week of June. Voting was by post or online.
Read the results from the 2021 sheepmeat and beef levy referendum.
We held a webinar on Wednesday 30 June 2021 for farmers that were unable to make it to one of our roadshow events around the country.
Key documents from the 2021 referendum
Voting packs contained information outlining what farmers voted on.
Levy Proposal (PDF, 2MB) – this sets out B+LNZ's role in investing collectively on behalf of farmers in activities that individuals can't do on their own, and the work we'll do to help farmers meet the challenges of the biggest period of change in a generation.
Levy Information (PDF, 228KB) – this contains important information on voting, covering the individual levies and general levy information, as required under the Commodities Levies Act 1990.
We also provided farmers with further details about B+LNZ's levy-funded work and our referendum offer at referendum roadshow events around New Zealand, as well as in a webinar. You can find a recording of the webinar here.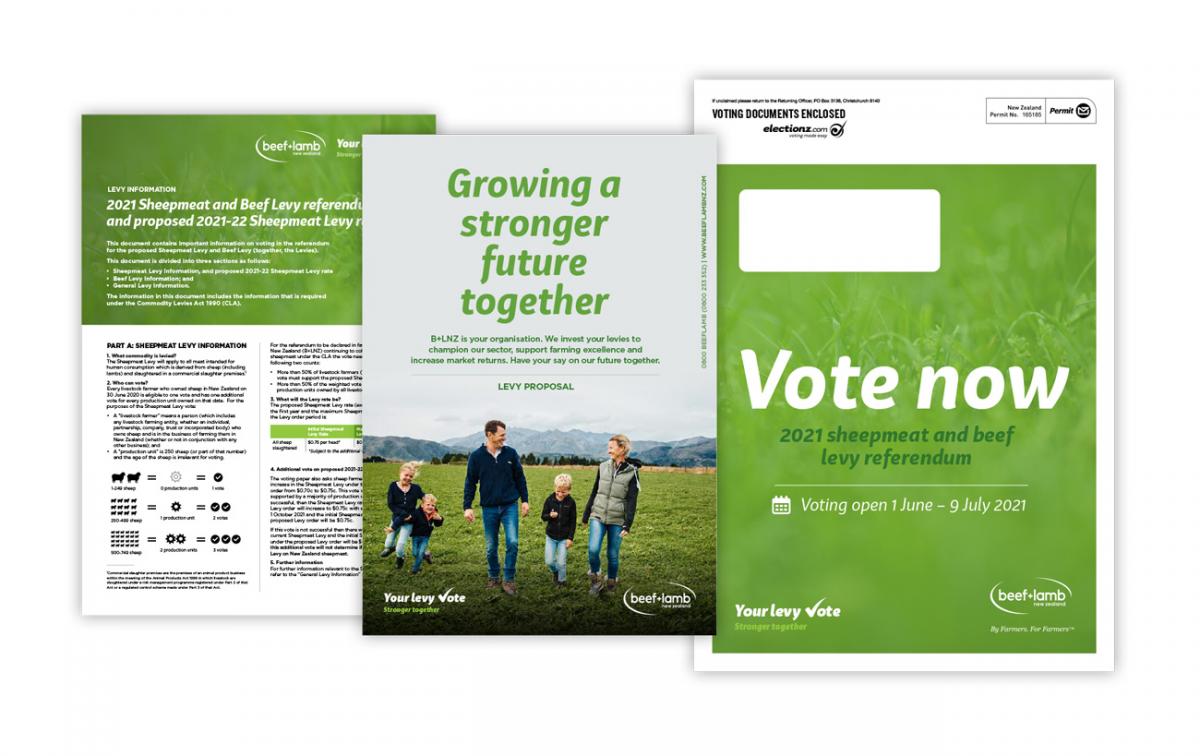 Register to vote
If you want to vote in a future B+LNZ referendum, register on the electoral roll on the 'Sign up with us' webpage.
Note that if you receive B+LNZ communications such as our weekly e-diaries, it doesn't guarantee you're registered on the electoral roll.
You can check if you're registered by calling 0800 BEEFLAMB (0800 233 352) or emailing enquiries@beeflambnz.com
Contact us
If you have any questions about the referendum, email enquiries@beeflambnz.com