In December, Beef and Lamb New Zealand (B+LNZ), in partnership with Firstlight Foods, Atkins Ranch and Silver Fern Farms, brought six 'US' influencers to New Zealand to learn about Taste Pure Nature and experience some of New Zealand's farming and meat production.

In the United States, red meat is predominantly grain-fed and B+LNZ wanted the "foodie" influencers to experience New Zealand's natural, grass-fed beef and lamb from farm to table. 
Travelling across New Zealand, the influencers visited some of New Zealand's iconic farms and dined at some of our top restaurants.
The influencers' social media posts documenting their experiences have gained more than 11.8 million impressions combined so far.
One of the influencers, Food Photographer Ben Hon from New York, shared his culinary journey with his nearly 56,000 followers.
"I've been blown away by what I've seen New Zealand farmers and meat companies doing here. It's amazing how much love and care farmers put into raising their animals and how they are fed on a simple and nutritious grass-fed diet, resulting in some of the tastiest beef and lamb I've ever had," says Ben.
Watch Ben Hon talk to TVNZ's Cushla Norman about his experience below. 
Read the full article about the US influencer visit on TVNZ's One News website.
The red meat sector's Taste Pure Nature campaign, which is designed to raise awareness of New Zealand beef and lamb, was launched in California last year, including having a billboard in Times Square, New York. The campaign gained extensive media coverage and the US website has had over 6 million visitors so far.
Taste Pure Nature is now in the process of being rolled out in China, with more information about this coming soon.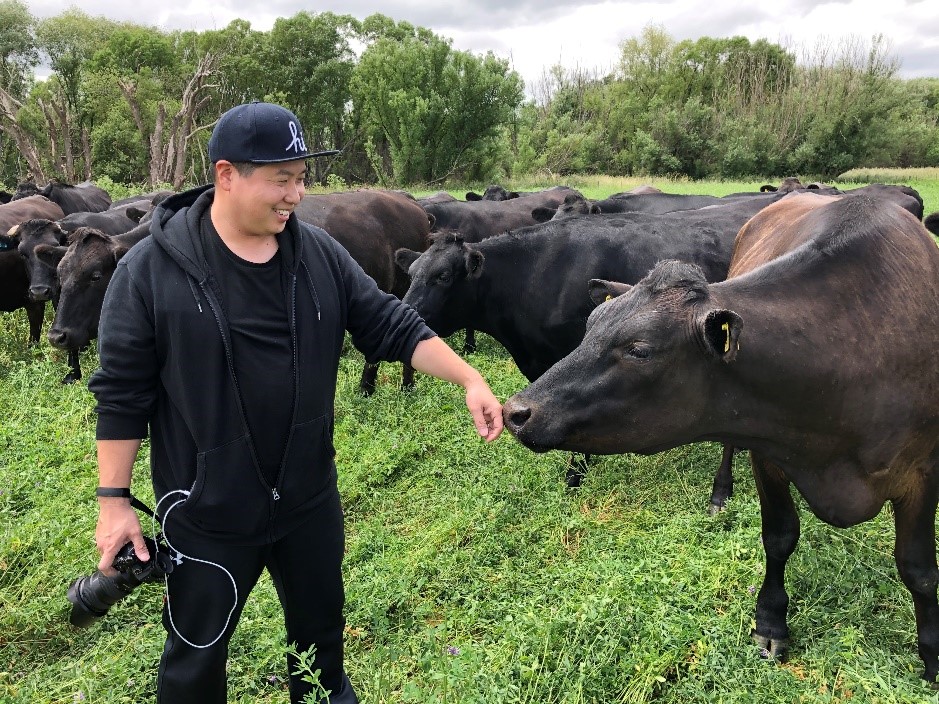 US foodie influencer Ben Hon on a farm visit, up and close with beef cattle.
Find out more about Taste Pure Nature
Taste Pure Nature is used as a global brand platform to underpin exporters' marketing programmes and enhance the positioning of New Zealand red meat. It has been developed in partnership with meat processors and farmers.