Beef + Lamb New Zealand (B+LNZ), in partnership with three New Zealand export companies, launched the Taste Pure Nature brand in selected retail outlets in Shandong, China.

The retail pilot was done in partnership with Anzco, Greenlea and Silver Fern Farms, along with their in-market customer, and driven by the importance of product origin for the Chinese 'Conscious Foodie' consumer.
An in-store presence was created to generate impact and drive sales during a key buying period for consumers (Chinese New Year).
Although the COVID-19 pandemic impacted the pilot launch, the supermarket chain has since approached B+LNZ to put Taste Pure Nature branding and marketing material in 200 of their supermarket stores from May.
Collaborating for impact during COVID-19
During the COVID-19 lockdown restrictions in China, B+LNZ saw this as an opportunity to partner with Kevin Lu, who owns a cooking school and retail outlet in Shanghai selling New Zealand beef and lamb. Lu has existing relationships with Greenlea, Anzco, Affco and Silver Fern Farms.
Lu runs an online retail programme on established online shopping channels where he has been promoting grass-fed New Zealand beef and lamb. He is now using the Taste Pure Nature origin brand as a value proposition for his retail products.
Lu hosted a livestream on Wechat and aiguang on April 19 promoting ANZCO beef shanks and Greenlea beef navel end brisket which saw over 1,000 viewers tune in. Lu had a range of guests join, including Tella Chen  (Mayo Medical Center Certified Health Coach) and the Executive Chef Jeffery Qiao from NZ country Pavilion.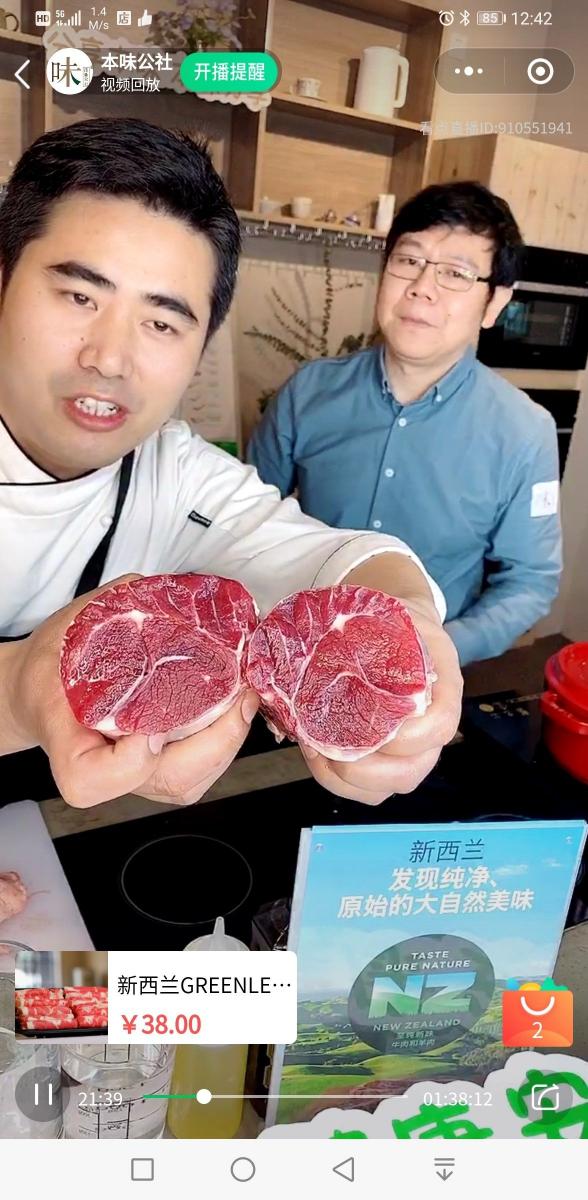 Jeffery promoting NZ beef and lamb during his livestream.
E-commerce campaign to boost New Zealand lamb sales in China
A new campaign to boost online sales of New Zealand lamb in China is being launched in a joint initiative by B+LNZ and leading food company Alliance Group.
The digital campaign will leverage changes in consumer behaviour in China toward purchasing red meat online and seeking healthier food options in the wake of COVID-19.
"Alliance Group and B+LNZ are co-investing in this initiative to drive the awareness of New Zealand's healthy and natural grass-fed lamb, but ultimately to drive sales," says Nick Beeby, General Manager Market Development at B+LNZ.
Researching the Chinese market
B+LNZ's Market Development team is continually monitoring Chinese consumers' perceptions of the protein market, the perception of protein origin, and the changes in retail channel choice during the COVID-19 pandemic.
The social media analysis shows Chinese consumers are increasingly positive about New Zealand-produced beef, lamb and mutton in the wake of the COVID-19 pandemic.
What's next?
B+LNZ will continue to develop partnerships with New Zealand exporters and their in-market partners to further expand the TPN brand. This includes building a digital platform to enhance New Zealand's position and connect consumers with our brand.
B+LNZ is working with a Shanghai based digital marketing agency on the development of a Taste Pure Nature digital marketing strategy and activation plan. The program will be designed to establish New Zealand's credibility for grass-fed beef and lamb, educate consumers on the benefits and convert interest to purchase through online and offline retail stores.
B+LNZ and the Alliance Group are continuing to work on a digital marketing plan to support the integrated promotion of Taste Pure Nature and Pure South brands online. The aim is to build brand awareness and consideration of Taste Pure Nature as the official & credible hallmark for New Zealand origin beef and lamb. The initial campaign is planned to run from May to September 2020.
In working with Silver Fern Farms, B+LNZ is developing a marketing campaign to support the retail launch of Silver Fern Farms branded products in supermarket stores and online e-commerce from July 2020.
Unlocking market potential activities
One of B+LNZ's top priorities is championing New Zealand's world-class farmers and unlocking the sector's full market potential.
Learn about what B+LNZ's Market Development team have been doing here:
Taste Pure Nature in the US
B+LNZ in partnership with other meat companies, are continuing to develop the United States market following the success of Taste Pure Nature in California.
The campaign has stayed strong since launching in March 2019 with extensive media coverage, strong advertising results and engagement on social media.
More information about this coming shortly.