Celebrating academic excellence and industry commitment in agriculture and horticulture.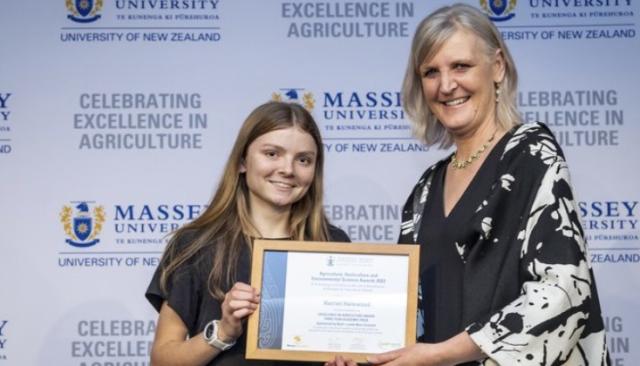 Massey School of Agriculture and Environment celebrated its top students of the year at their annual Agriculture, Horticulture and Environmental Science Awards Dinner last week.
Beef + Lamb New Zealand (B+LNZ) proudly co-sponsored the awards that recognised leading students in agriculture and horticulture.  
Our very own Justine Kidd, B+LNZ General Manager Extension was able to attend and present the award for top third-year agriculture student.
"It is always inspiring to see the next generation of passionate agricultural professionals be recognised for their hard work," says Kidd.
The award for top third- year student in agriculture went to Harriet Halewood (Bachelor of Agribusiness, Rural Evaluation). Maddison Roberts-Hubers and Sophie Rutherford were also honoured with second and third place, respectively.
The top award of the evening is The William Gerrish Award that recognises an outstanding Massey student in farm management. The student also needs to demonstrate a high level of personal integrity, intellectual curiosity, vision, and social conscience.
This year's William Gerrish winner was Alyssa Hayes, a distance Bachelor of Agribusiness student from Eketahuna, majoring in farm management. Alyssa has a passion for farm management that she discovered while helping on her friend's mother's sheep and beef farm.
"These awards are a testament to the dedication and hard work exhibited by students pursuing careers in agriculture. Their passion and commitment are instrumental in driving the industry forward and ensuring its continued success.
"These are our future change-makers and leaders in the agriculture field. A huge congratulations go to the award recipients, and we wish them the very best in their future agricultural endeavours, adds Kidd.
B+LNZ is committed to supporting and nurturing the next generation of agricultural professionals, specifically in the red meat industry. We achieve this through building strong connections with stakeholders and collaborative partnerships across the industry.
Learn more about B+LNZ's People and Training work.