Urban visitors and host farmers share a similar vision of sustainable farming, according to the Open Farms survey conducted by Our Land and Water National Science Challenge.

Post-event survey results indicate that getting on-farm positively changes a range of urban perceptions and behaviours. From reconsidering the complexity of farming, to feeling more positive about on-farm environmental sustainability and encouraging more thoughtful food purchasing. Perhaps most importantly, visiting a farm helps urban Kiwis feel more connected to their farmers. 
See below the key findings from the feedback report done in partnership with Our Land and Water National Science Challenge.
Visitor feedback: A shared vision of sustainability 
The survey results show that urban visitors and host farmers generally share a vision of more diverse landscapes, fewer chemical inputs and farming practices that improve soil and water health.
"What an amazing opportunity for someone as green as me to see what can be done in an environment so close to my property. I thoroughly enjoyed it and really appreciate the time and care taken to show us around." – Open Farms visitor.
Also, 91% of visitors want to visit again in 2022 with the 'environment on farm' ranking as the highlight of their day. 
Overall, visitors ranked the Open Farms experience 4.6 out of 5.
Open Farms Founder Daniel Eb says he is really pleased with the visitor feedback but also with the amount of new people the marketing activities reached. 
"It's only the second year of running this initiative and we're making really good progress. This year we reached 368,000 people and engaged with 99,000 people. We also had 31,300 unique website visitors which is up 17 percent from last year," Daniel says.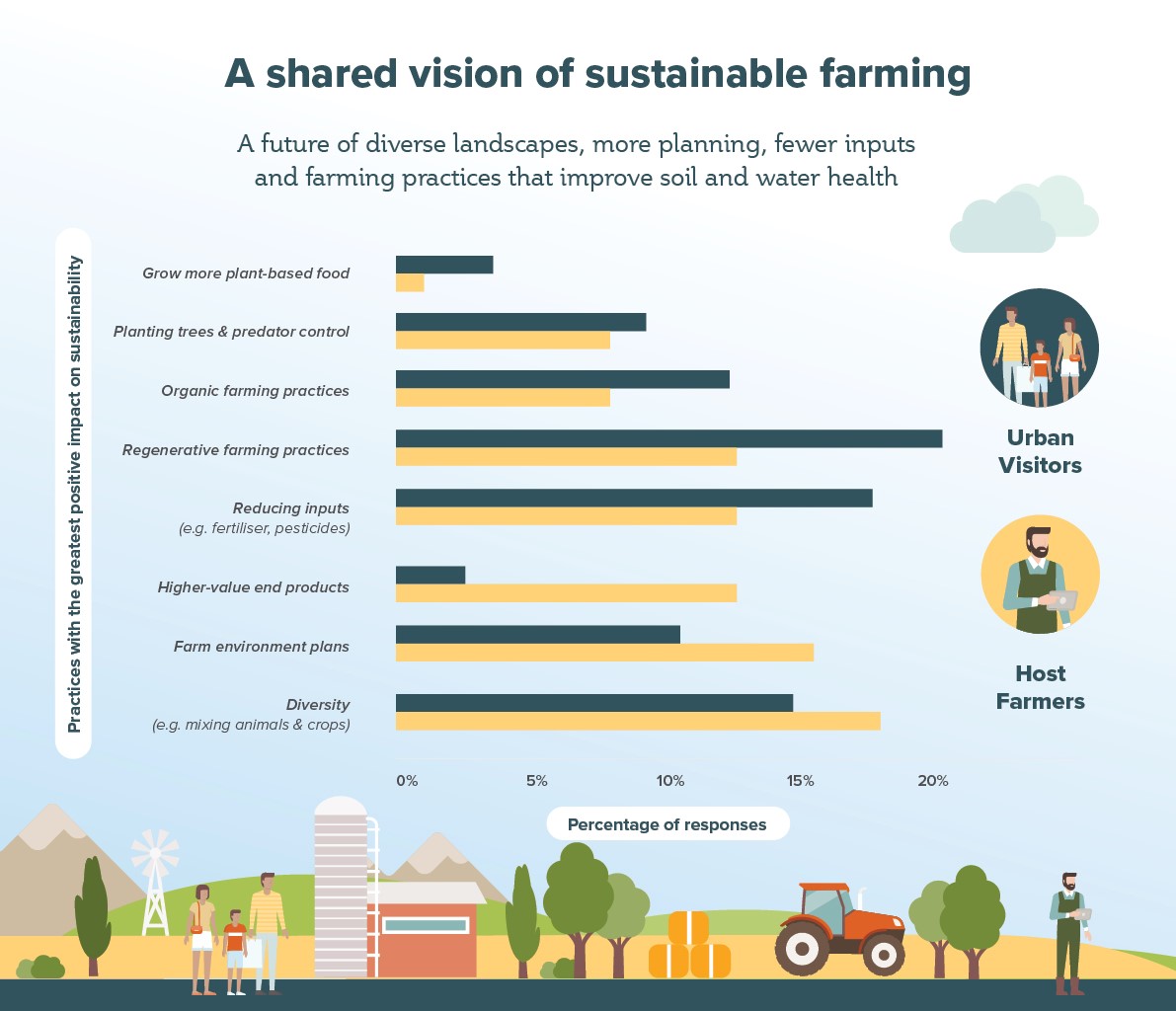 Other key findings:
Barriers to the vision: Host farmers and urban visitors agree that the biggest barrier to sustainable farming is the purchasing and pricing power of large market players, like supermarkets. 
Price – the elephant in the room: While some urban visitors are willing to pay more for sustainably grown food, most think food in New Zealand is too expensive as it is. Despite respondent concern for the perceived low prices farmers receive for their produce, price increases for food were not recognised as a likely pathway towards sustainable farming. 
The way forward – food direct from the farmer: Urban visitors believe supporting local farmers directly is the most effective food sustainability action they can take. 
Read the full survey results on Our Land and Water's website.
Positive hosting experience
It's not only the visitors who ranked their experience as extremely positive, the Open Farm hosts rated their overall experience a 4.6 out of 5 and 81 percent said they would host again, while the remaining 19 percent were unsure.
One host said, "It was a very good event for us, and we have had a surge in online sales, social media follows, and the event was a commercial success on the day too."
The 37 farm hosts were comprised of 37 percent sheep and beef, 26 percent horticulture, 11 percent dairy, 6 percent permaculture and 20 percent 'other'.
This year, a significantly higher proportion of farms were located closer to main urban centres, positively impacting engagement and turnout.
The importance of Open Farms
Beef + Lamb New Zealand (B+LNZ) Chief Executive Sam McIvor says that this research validates many critical 2020 findings around on-farm experience building, connection to farming, changing perceptions of environmental issues, and driving positive behaviour.
"Findings like this and our own research shows the importance of getting urban people out on farm to give them a better understanding of our farming systems and rural communities. That is why we're a founding partner of Open Farms and will continue to encourage our farmers to host."
Adapting quickly after COVID-19 level changes
The day was originally planned for 21 February 2021 but was rescheduled due to the COVID-19 level changes which impacted overall host and visitor numbers. 
Daniel says, "Despite having to delay the event, we're really pleased with the number of hosts and visitors. The disruption demonstrated the adaptability of Open Farms because we do everything online, it meant we could move quickly to reschedule."
"A massive thank you to all the hosts we worked with to reschedule the day."
More information