Read about how we're positioning New Zealand's grass-fed beef and lamb in China through Taste Pure Nature campaigns that are reaching millions of Conscious Foodies.

Beef + Lamb New Zealand's (B+LNZ) Taste Pure Nature branded marketing strategy in China includes identifying and developing partnerships with brands that enable the growth of awareness and reach of our brand among Chinese Conscious Foodies.
"We target our marketing efforts toward Conscious Foodies near retail locations that sell New Zealand grass-fed red beef and lamb. We often do this in partnership with meat processing and exporting companies that supply those retail stores to collectively deliver a campaign that drives consumers to a point of purchase," says Michael Wan, B+LNZ's Global Manager – New Zealand Red Meat Story.
Below is an update on some of our most recent campaigns across the country. 
Mid-Autumn Festival
Mid-autumn Festival is one of the most important festivals for Chinese families where traditional foods and family meals are shared to celebrate harvest and family togetherness. Its cultural significance is similar to that of Thanksgiving in the United States. 
This year, B+LNZ partnered with Alliance, ANZCO and Silver Fern Farms and launched retail campaigns with premium retailers including Alibaba's Hema Fresh in Shenzhen, JD's 7 Fresh, AEON and Hualian Premium in Beijing. 
These campaigns used multiple online and offline touchpoints, including social influencers, , outdoor advertising and in-store activation, to raise awareness of New Zealand grass-fed red beef and lamb and encourage trial and purchase. 
Social influencers
Social influencers published video and graphic content on the benefits of New Zealand grass-fed beef and lamb and the retail promotion on the top four Chinese social media platforms – WeChat, Douyin (Chinese version of TikTok), Little Red Book and Weibo. The campaign generated over 5.5 million views within the first week of launch. 
Paid digital advertising
Paid advertising on WeChat and Weibo targeted consumers based on their demographics, geo-location, interests and shopping preferences. Collectively this delivered almost 5 million views.
Outdoor advertising
Out-of-home advertising including 7,700 digital screens and 895 printed adverts in residential building elevators and 146 outdoor adverts at the entrance of apartment complexes. These are expected to reach over 25 million consumers who live or work in the vicinities of the retail stores and drive them into the stores. 
Innovative Partnership Programmes
Our innovative partnerships focus on incubating and nurturing new direct to consumer product solution ideas as well as collaboration with affiliated brands and retailers. 
"With these programmes we're aiming to build continued awareness for New Zealand grass-fed beef and lamb, educate consumers on the benefits and key differentiators and create premium experiences in-store or at home," says Mr Wan. 
Some of the programmes under way include partnerships with Swiss Butchery and Sauce Pan
Swiss Butchery partnership
An exclusive New Zealand grass-fed beef and lamb zone was created at Swiss Butchery, a high-end specialist retailer in Shanghai where no customised branding had been allowed before. The 12-week promotion included a series of staff training workshops and culinary classes with VIP customers as well as social influencers who created and shared recipe content on their own social media channels. 
We partnered with Shanghai-based Kiwi chef Hamish Waddle, Executive Chef at the iconic M on the Bund and M Glam restaurants to design and create restaurant quality meals using New Zealand grass-fed beef and lamb for consumers to enjoy at home. It is another way for us to introduce the Taste Pure Nature taste experience to Chinese Conscious Foodies in a convenient and fail-proof way that suits their busy lifestyle. Nearly a dozen concepts have been created and tested which has led to two meal concepts to be commercialised in October and November. 
In the most recent campaign, Chef Hamish Waddle created a ready-to-eat Pure South grass-fed lamb curry using unique New Zealand and Pacific flavours . These meals are available for purchase and delivery on a Chinese food app called Sauce Pan. In fact, it's already selling! 
View the WeChat post in English.  
Mr Wan explains, "B+LNZ, via Taste Pure Nature, provided the validated concept, recipe and access to the Chef to Sauce Pan in return for brand exposure to the online audience and guaranteed use of New Zealand grass-fed lamb in all kits created and sold.
"More retailers have signalled they want in. We're also using the meal design in a retail promotion planned with City Super, a high-end Shanghai supermarket, and ANZCO this month."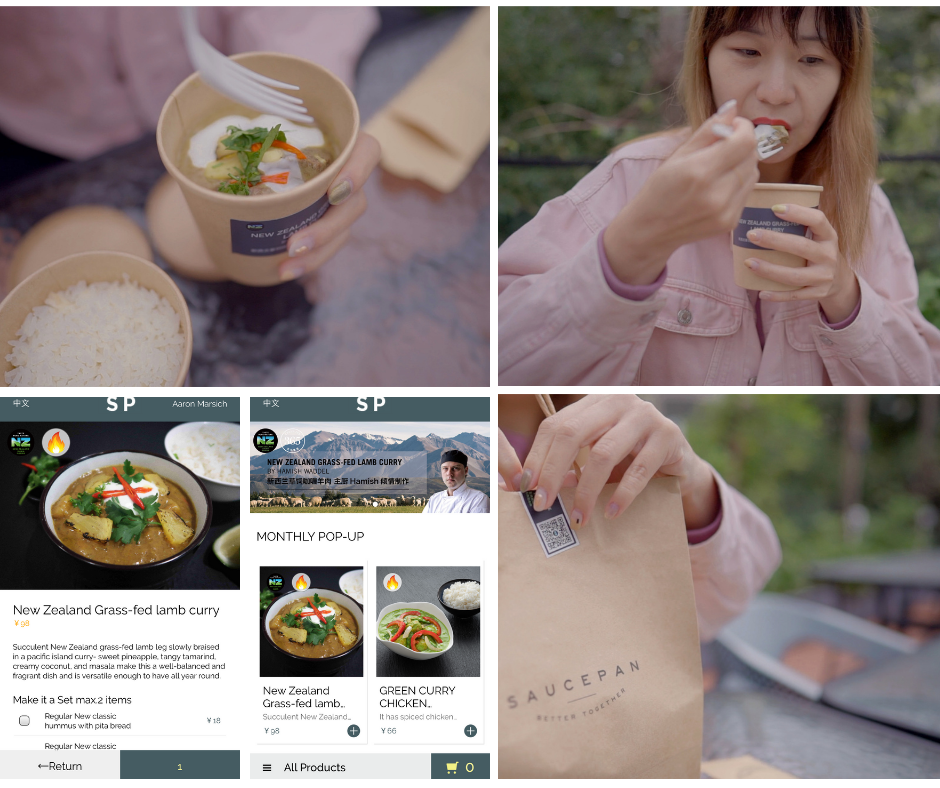 Sauce Pan: New Zealand restaurant quality eating experiences at home
More campaigns coming soon
Three other programmes are to be rolled out in the fourth quarter of 2021 including another high-end retail partnership, a social media campaign with Les Mills and the delivery of unique New Zealand branded sauces to make the at home cooking experience more successful. Watch this space!
Using Chinese social media platforms to engage with consumers
Using our Chinese consumer insights, B+LNZ launched Taste Pure Nature channels on two more social media platforms Douyin and Little Red Book in the third quarter of 2021. This completes our social media suite in China covering the top three social media platforms. 
How we're using each social platform in China:
Little Red Book is a seeding platform for a female dominant audience to discover, research and share content about New Zelaand grass-fed beef and lamb and retail experiences. 
Douyin (Chinese version of TikTok) is where content is pushed to users who have indicated an interest in quality food, nutrition, health and fitness, many of whom would be our target audience – Conscious Foodies.
WeChat is used as a Taste Pure Nature brand platform with mostly text and image content for consumers to learn about New Zealand grass-fed beef and lamb and why they should choose it.
More information
Watch this space! Soon, B+LNZ will provide an update on Taste Pure Nature activities in the US. Also, keep a lookout on B+LNZ's social media channels (Facebook, Instagram and Twitter) for live updates on campaigns.
Find out more about Taste Pure Nature: