Agri-career camps are underway across Aotearoa as students learn about the variety of roles in the agriculture sector.

The three-day camps run by New Zealand Young Farmers and supported by Beef + Lamb New Zealand (B+LNZ) and the Red Meat Profit Partnership are aimed at inspiring Young Farmers TeenAg members and Ag learning students who already have some farming knowledge to pursue careers in the food and fibre sector. 
Doug Macredie, Beef + Lamb New Zealand's (B+LNZ) Sector Capability Manager says the camps give students opportunities to connect with current farmers who can potentially mentor and guide them. 
"As part of the camp students visit local sheep and beef farmers to learn about innovations and future methods. They are able to ask questions and get advice from farmers on what it takes to be successful and what are good skills to have."
The camps also provide opportunities to learn about pathways in the sector through panel discussions with local young farmers, teachers and parents.
The first couple of camps were held in Southland (7–9 July) and Masterton (14–16 July), with more camps scheduled for the September school holidays in Palmerston North, Methven and Hamilton. 
The camps have speakers from a variety of industry organisations including B+LNZ, to give first-hand insights into the sheep and beef sector.  
Olivia Ross, B+LNZ's Extension Manger – Southern South Island presented at the first camp in Southland. She said it was great to see the enthusiasm from young people about the industry.
"The Southland camp was comprised of 100% female participants, which is awesome to see in a historically male dominated sector. The camp also gave the students a much better appreciation and understanding of the local Telford campus, which offers many students a gateway to their careers and memories for life." 
High School Student Taya Wilson who attended the Masterton camp says she thoroughly enjoyed the camp and is excited about her future in the sector.
"It was amazing! I've got so many ideas for my future and it really got me up to speed on what I want to do. I learned so much and it reassured me that I want a job in the primary sector."
"Thank you so much Beef + Lamb New Zealand for sponsoring me to go on this camp, I am excited for what's to come and will miss my new like-minded friends," she says.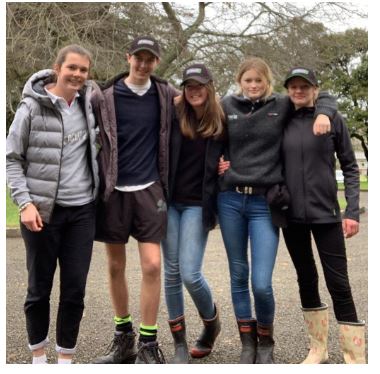 Taya Wilson pictured in the middle with her new friends she met at the Meat Your Career Masterton camp.
September Camps
In September there are three more camps lined up, including:
TaraMan – Palmerston North Tuesday 29th September – Thursday 1st October.
Aorangi, Tasman, Methven 29th September – Thursday 1st October.
Waikato, BoP, Northern Hamilton 6th October – 8th October.
B+LNZ are a partner alongside Read Meat Profit Partnership, ANZCO, Worksafe, and Primary ITO.
For more information, visit the New Zealand Young Farmers website.
Sort It Online
Sort It Online is a new webinar expo platform that gives students, jobseekers and anyone interested in jobs in Manawatū and beyond, easy, worthwhile ways to connect with local employers and training providers virtually. Olivia Ross, B+LNZ's B+LNZ's Extension Manger – Southern South Island presented in the June webinar. For more information, and to watch the recording visit the Sort It website.