Around 130 people attended the Beef + Lamb New Zealand (B+LNZ) Mid Northern North Island (MNNI) inaugural FarmSmart conference recently. The theme of the day was in-line with the MNNI Farmer Council vision of 'transforming our farm businesses for the future'.

The day included an opening presentation from YOLO farmer and Meat The Need co-founder Wayne Langford, followed by many 'pick and mix' options, and concluded with a panel discussion of four industry leaders discussing their thoughts on the future of our sector.
B+LNZ Extension Manager Maria Shanks said the day really hit the mark with their aim of providing a range of speakers to ensure every attendee left with something to help their own business goals. "There was a real buzz during the day and we are already looking forward to next year's event".    
Wayne Langford: The importance of community
The positive tone of the day was well and truly set with the opening presentation 'What a Great Time to be Farming' from Wayne Langford.  Wayne's story is truly inspiring and he's open about his mental health struggles and the life changing decision he made to start the YOLO Farmer.  His realisation that giving was a key part of his mental wellness also led him to launch the charity Meat the Need aiming to help feed New Zealanders by providing meat to NZ's city missions and food banks. Community was key to Wayne's happiness and the audience was asked to consider whether they'd rather be at the top of the mountain alone or half-way up with the whole community – something for us all to think about. 
The future of our sector, a panel discussion
Four industry leaders made up of Julie McDade, Jack Keeys, Wayne Langford and Dan Brier had a wide-ranging discussion about the future of our sector with facilitator Lindy Nelson.
This included looking at consumer expectations, how we meet them, how we prove them and what they may look like in the coming years - particularly in relation to environment and animal welfare.  The role of social media was discussed and the influence new channels such as TikTok might have. 
They all agreed that there was a positive story for New Zealand farmers to tell around our meat production and we needed to be able to evidence it as well as share it. 
Pick and Mix sessions
There was a large variety of 'pick and mix' session options offering attendees two speaker options depending on their own preference. Below is a short summary of each. 
Matt and Lynley Wyeth talked about their farm business and the building blocks of team culture, preparation, governance and technology that allowed them to succeed and grow their business.  They also have one eye on the next generation with their ideal of 'making farming sexy' to retain interest and inspire those wanting to join the industry.  
Two of B+LNZ MNNI Farmer Councillor's Ruby Mulinder and Phil Weir spoke about land diversification. Ruby shared her journey to farm ownership with her husband Sean and the steps they are taking on farm to meet their goals and ensure a sustainable and diversified system for the future. Afterwards Phil spoke about the practical due diligence requirements when considering a system change.
Lee Matheson covered the 5 habits of highly effective farmers.  Lee felt one of the key things highly effective farmers did was develop good habits, small things that were done regularly and contributed towards constant incremental improvements in performance.  
Tracey Bayliss talked about the journey of Grandad's Beef, a local producer looking to change things up and market their own beef domestically backed up by their farming story.  
Lindy Nelson explained the key principals of leadership and the crucial impact your leadership style can have on having a high performing team.  Understanding your personality can help ensure you have the right impact on those you are leading.  
We also heard from Andrew Buswell as to the importance of trees on farm and the multitude of benefits including shade, shelter and biodiversity that can be had from planning your tree planting well.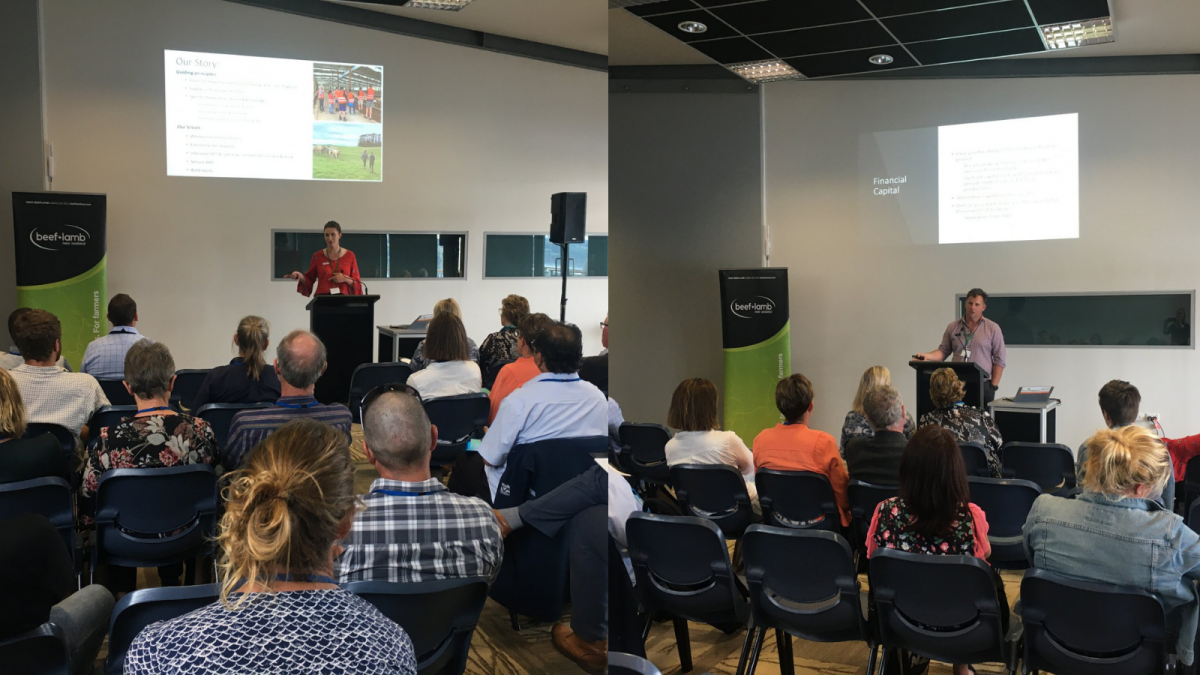 L-R: Ruby Mulinder and Phil Weir both spoke about Land Use Diversification in two separate sessions.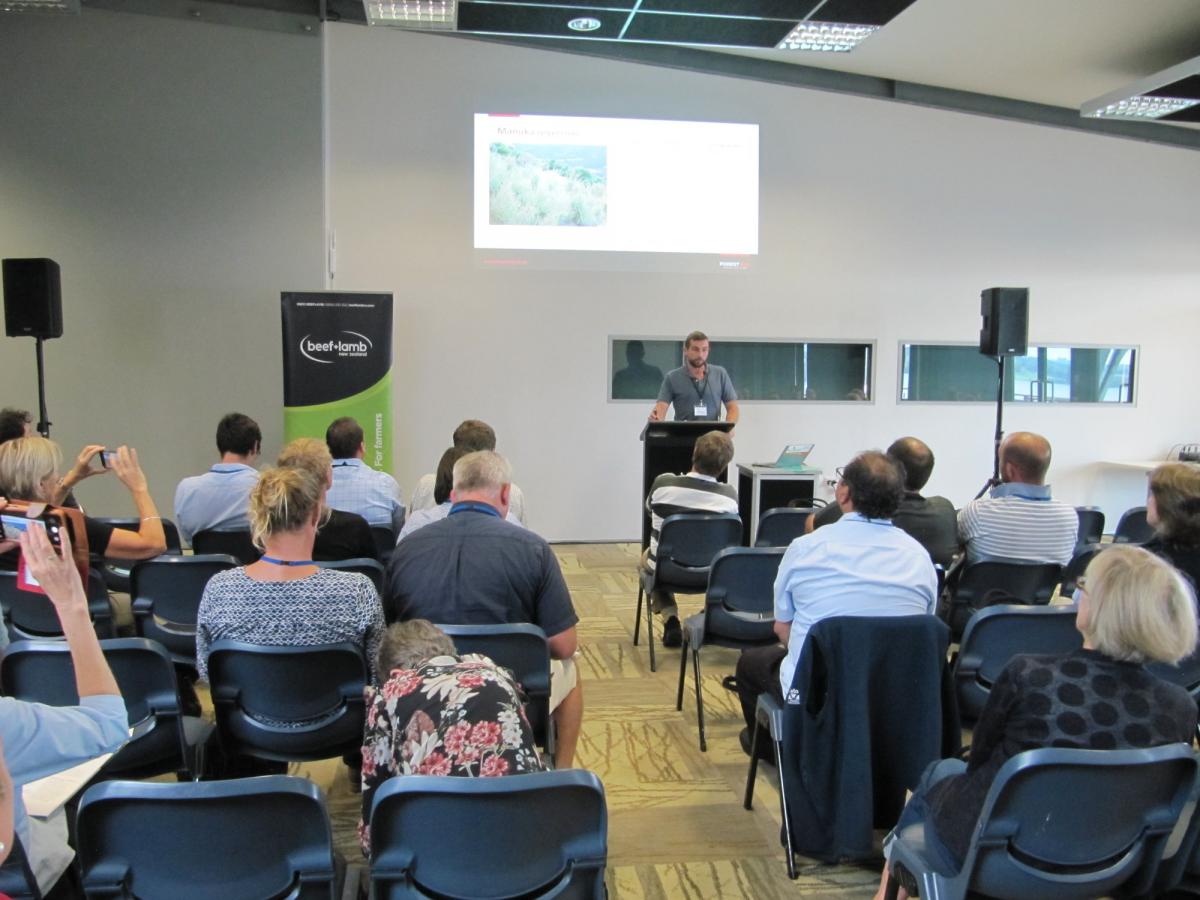 Andrew Buswell spoke around trees on farms and what opportunities there may be in this space.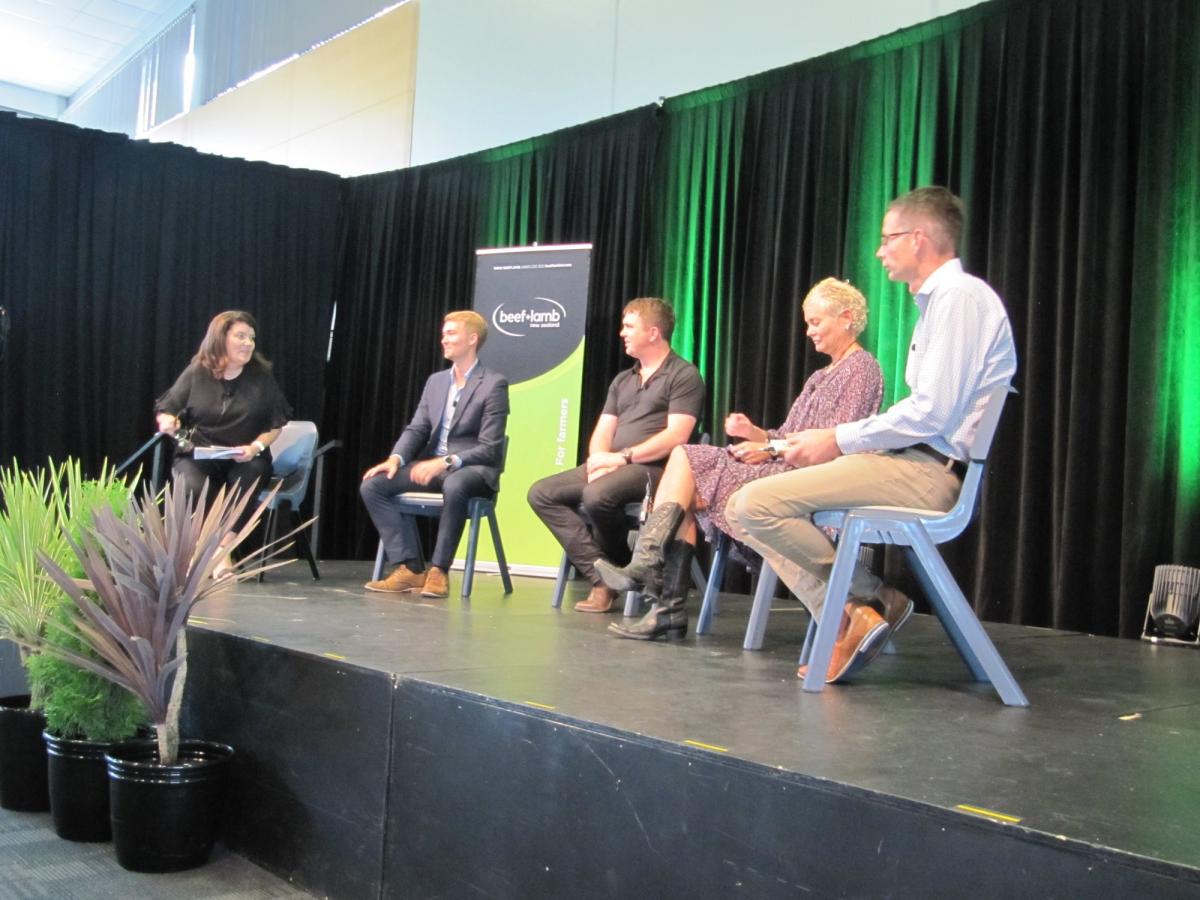 L-R: Our panel of Jack Keeys, Wayne Langford, Julie McDade and Dan Brier discussed the future of our industry with facilitator Lindy Nelson.