Beef + Lamb New Zealand Genetics is launching a future-focused beef programme designed to generate more income for beef producers and the economy while protecting the environment.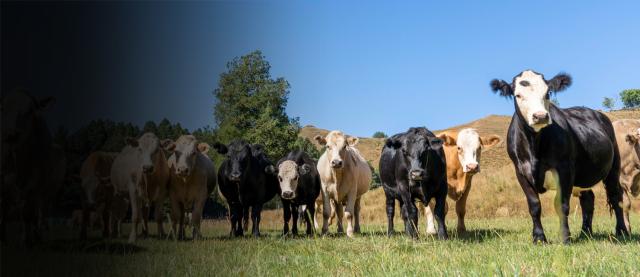 Dan Brier, B+LNZ Genetic's General Manager, says modelling has shown that through this programme, farmers can increase the beef industry's income by $460 million while improving the environmental and social outcomes for their farms and communities.
The programme, which builds on previous work by B+LNZ Genetics such as the Beef Progeny Test, is the industry's response to increasing demand for high quality food produced with a lower environmental footprint.
Dan says with the right science and tools, farmers will be able to produce great tasting meat with a good environmental story while maintaining and improving their production efficiencies.
"Our meat companies are already moving in this direction, with several introducing quality grading systems and working under the Taste Pure Nature initiative to target the "conscious foodie" consumer."
AbacusBio consultant Jason Archer will be providing the science lead on the programme while Matias Kinzurik from B+LNZ Genetics will be the overall manager. 
The programme incorporates seven areas of work which start with the development of NZ-centric breeding objectives.
Dan says these will be focused on this country's pasture-based system where cows play a dual role of supporting sheep production while producing a high-quality product.
A data measurement and collection system will be developed to collect phenotypic and genotypic data and a new Beef Progeny Test, using Angus, Hereford and Simmental genetics, will identify the performance of the agreed-on traits linking with international beef and dairy beef genetics.
"The Beef Progeny Test will be underway this mating season, having secured a farm and identified bulls to create linkages to international datasets and previous progeny tests. Time is of the essence when dealing with biological systems so we took the opportunity to get started so we have calves on the ground next year."
The fourth area of work is the use of next generation commercial genomic tools to support stud and commercial operations. Commercial farmers, who are performance recording, will be used to ground-truth these tools and provide broader-based performance data and feedback.
Dan says B+LNZ Genetics will use their experience of building a genetic engine for sheep to build a similar engine for beef, combining phenotypic, genotypic and genomic data to calculate breeding values for agreed traits.
Ultimately, under the Beef Programme, B+LNZ Genetics plans to extend nProve genetics systems to include stud cattle. This would give commercial users the ability to quickly and easily source the right genetics for their environment and farm system.
"The final and arguably most important part of the Beef Programme is industry uptake and we will bring a laser-like focus to this challenge, ensuring we are transferring knowledge to commercial farmers and making cutting-edge tools and resources available to the beef industry."
The NZ beef industry is made up of 25,000 farmers and 3.6 million beef cattle. Of these, one million are breeding cows which combine with the dairy herd to produce 1.4 million animals for processing annually.
Beef exports total $4.2 billion.