Taste Pure Nature is now a part of the Made With Care campaign to brand New Zealand's food and beverages on the global stage. Read about this campaign and the latest Taste Pure Nature news in the United States.

Made With Care: Sharing our Food and Beverage stories with the world
Made With Care, a global campaign designed to grow awareness, preference and demand for New Zealand Food and Beverage products in the key export markets of Australia, China, Japan, the USA and the UK was launched in October.
We're working with New Zealand Trade & Enterprise (NZTE) who is leading the campaign and other partners including the Ministry for Primary Industries, the Ministry for Education, New Zealand Story and many more to collectively brand New Zealand on the global stage. 
"With active marketing programmes in the United States and China, the Made With Care campaign provides additional benefit for our industry to both collaboratively support our food and beverage country of origin and build on the relevance of the grass-fed beef and lamb story through the 'Taste Pure Nature' brand in both markets," says B+LNZ's Global Manager – New Zealand Red Meat Story, Michael Wan.
Learn more about Made With Care on the official website and watch the short YouTube promotional video.  
Help us amplify the Made With Care campaign
Whether it be sharing our content, creating your own, or simply encouraging other New Zealand businesses to get involved. You can help amplify the Made With Care campaign.
View the campaign toolkit and help spread the word about how great New Zealand food is. You can also follow the official social channels: Facebook and Instagram and use the hashtag #NZMadeWithCare
The latest Taste Pure Nature campaigns in the United States (US)
US: Silver Fern Farms Angus x Marx Foods Campaign 
In September, B+LNZ partner with Silver Fern Farms Angus and Marx Foods on a campaign aimed at building awareness and preference for New Zealand grass-fed beef in the US through digital and social content and sales conversion through marxfoods.com.
The campaign, targeted at Conscious Foodies in the New York metropolitan area and California, reached more than 38 million people, had more than 1.15 million brand video views and drove around 118,000 visits to the MarxFoods.com website. We also generated more than 300,000 engagements though our influencer activities! 
"We're really pleased with the media performance and how well the influencer content generated positive engagement among Conscious Foodies," says Michael.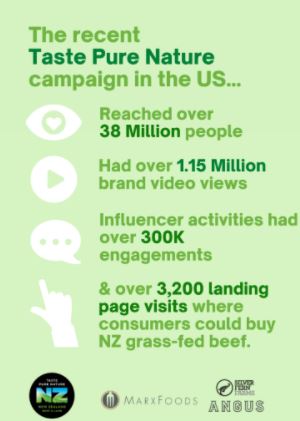 Good Morning America promoting Taste Pure Nature
B+LNZ has continued to partner with Chef George Duran who regularly features on a leading national morning TV show, Good Morning America (GMA).  
As part of the campaign mentioned above with Silver Fern Farms and Marx Foods, Chef Duran's latest recipe features grass-fed Angus beef from the Marx Foods' sampler boxes. 
The video went live on GMA's website in October. The webpage gets more than 4 million monthly visitors.
You can watch Chef Duran highlighting the Silver Fern Farms Butchers Favorites sampler box and talking about New Zealand grass-fed Angus beef on the GMA website. 
The recipe was also published on GMA's social media channels, gaining more than 63K views. You can see the post on Twitter, Instagram or Facebook.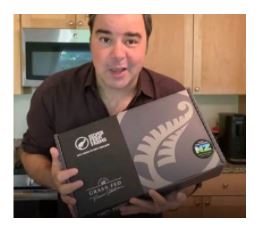 Taste Pure Nature in China
If you missed our recent Taste Pure Nature update in China, you can find it on our website. 
Find out more about Taste Pure Nature