About the beef levies for dairy farmers
Dairy farmers pay a beef levy to B+LNZ at the processor, separate to the milksolids levy paid to DairyNZ. This money is invested in a range of projects, programmes and initiatives, all aimed at increasing productivity and profitability for the beef side of dairy farmers' businesses.
Adding value to dairy beef
B+LNZ undertakes a number of projects that add value to dairy beef including: 
Improving market access for manufacturing beef through trade negotiations and ensuring we have good relationships in key markets such as the United States.
Our Taste Pure Nature origin brand has been designed to add value to New Zealand's red meat exports, including dairy-derived manufacturing beef.
B+LNZ research showed alternative proteins are a significant risk and direct competitor to beef derived from dairy cows, which is used in the manufacture of hamburgers, particularly in the US. There is a specific component of the Taste Pure Nature origin programme aimed at manufacturing beef. 
The Dairy Beef Progeny Test (DBPT) creates value for both the beef and dairy industries by identifying and enabling the widespread use of superior bulls for use over dairy cows - offering easy calving and short gestation length genetics to dairy farmers, while finishers still benefit from fast-finishing animals with superior carcass attributes.  The programme began at Limestone Downs in 2015, where Hereford and Angus bulls were tested in a dairy herd to determine how well the progeny performance matched the Estimated Breeding Value (EBV) of the sire.  In 2017, the second stage of the DBPT was established at Pāmu's Renown farm at Wairakei Estate and it tests the performance of bulls (of any breed) with EBVs that indicate they are likely to be excellent bulls for dairy beef systems. Find more information on B+LNZ Genetics' website.
We're working with DairyNZ on a research programme to capture more value from bobby calves. Looking right along the supply chain, we'll identify opportunities for new consumer products (e.g. rose veal), examine implications for processing and test beef/dairy on-farm systems (considering issues like greenhouse gases, calf rearing and genetics, and solutions such as sexed semen).
The five-year B+LNZ Dairy-Beef Integration programme that concluded in 2016 demonstrated the risks and benefits to the supply chain of an increase in the supply of quality beef calves for finishing. This project compared the use of Ezicalve (high EBVs for calving ease and live weight) to unrecorded Hereford sires on a dairy farm and assessed the impacts on mating, calving, calf rearing and beef finishing. View the final report here.
Working in collaboration
B+LNZ works in collaboration with DairyNZ and other organisations in a number of areas that are of benefit to dairy farmers including:
Dairy heifer grazing
Working with DairyNZ on the development of resources and events with farmers to promote good winter grazing management practices, and engagement with the Government on appropriate rules and regulations
We support Agri-Women's Development Trust (AWDT) which provides leadership development opportunities for women across all agriculture
The eradication of Mycoplasma bovis (M.bovis)
Biodiversity workshops
NAIT and E-ASDs to improve traceability.
B+LNZ co-invests with DairyNZ in a number of people and capability areas and research projects (like pastoral genomics) to make our levy money go further.
Farm management tools
B+LNZ has developed an array of farm management tools to help farmers make the most efficient and effective use of their natural and human resources to drive productivity and profitability while protecting and enhancing their environment. 
These workshops, tools and resources are available to all levy payers and we encourage dairy farmers to use them.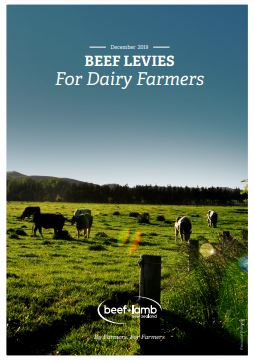 Recognising that a significant amount of its beef levy comes from cattle derived from the dairy industry, B+LNZ specifically takes into account the information needs of dairy farmers when developing resources, especially in areas where beef farmers and dairy farmers face similar issues such as winter grazing, feed management and internal parasite control.
Encouraging and supporting all farmers, whether sheep, beef, dairy or other, to work together at scale is a key part of implementing B+LNZ's Environment Strategy.
B+LNZ is the sole funder of Wormwise which is also available to dairy farmers.
Download B+LNZ's Beef Levies for Dairy Farmers book (PDF, 12MB). To request a hard copy email enquiries@beeflambnz.com or phone 0800 233 352.
B+LNZ Genetics Beef Programme
B+LNZ Genetics believes that with the right science and data systems to support it, the beef industry can produce great-tasting beef with a strong environmental story, while still maintaining and improving production efficiency. And we're on a mission to give breeders and farmers the tools to achieve this. 
Find out more information on the B+LNZ Genetics website.
Contact B+LNZ Genetics Beef Operations Specialist Anna Boyd for stud and commercial breeder questions at anna.boyd@blnzgenetics.com.