Forming or joining an Action Group is a great way for farmers to put their ideas into action, make positive changes on farm and improve their business' productivity and profitability.

Note: this programme is currently under review. Please contact Olivia.Weatherburn@beeflambnz.com for more information. 
Developed with input from sheep and beef farmers and rural professionals as part of the Red Meat Profit Partnership (RMPP), the approach has been proven to support farmers to make changes in a range of areas such as farm systems and the environment.
B+LNZ has adopted the Action Group extension and adoption model to ensure all sheep and beef farmers have had the opportunity to benefit from the success of this small group learning approach.
A comprehensive evaluation of the action group programmes is in progress, and a report is scheduled for release in early 2024. This report will highlight essential findings from the overarching program and detail the strategies for integrating action groups into extension delivery throughout B+LNZ and the broader industry in the coming years including the proposed support for existing groups.
Questions and Answers
As of September 30, 2023, the existing annual grant of $2,000 per Action Group concluded. However, we want to emphasise that this does not signify the end of the groups or a requirement for you to conclude ongoing activities and disband the groups. 
A comprehensive evaluation of the action group programmes is in progress, and a report is scheduled for release in early 2024. This review aims to determine the shape of future support for the groups.  
We'll be reaching out to you to gather your feedback, insights, and ideas, particularly from the current active groups. This will also include exploring potential options for future extension delivery. 
During 2022, our team diligently reached out to all lead farmers across New Zealand who were part of various groups. The purpose was to gain insights into the status of these groups and understand their accomplishments and challenges over the past few years. 
We were pleased to hear about the activities and progress of the groups. Remarkably, 90% of the groups that had completed their journey had successfully achieved the goals they initially set out to accomplish. 
Participating in small group learning sessions and gatherings has proven to be highly valuable for many groups. The sharing of ideas and experiences has resulted in valuable insights, benefiting not only the members of these groups but also the broader network of interconnected farming businesses. 
If you'd like to share your feedback or discuss the valuable insights in addition to the review process gained by group members and connected farming businesses through small group learning.  
Please feel free to reach out Olivia Weatherburn. Your input is highly encouraged and appreciated. 
The key principles underlying the design of the Extension Model used in the Action Group programme included: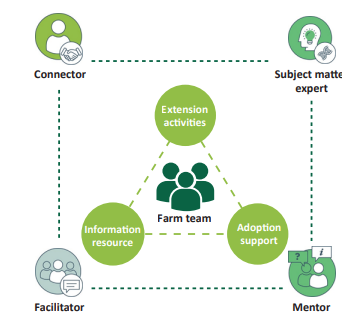 Information resources: these may be hard copy or increasingly digital. For example, the B+LNZ Knowledge Hub has a huge range of material from industry experts to help farmers get the information needed to inform farm decisions.  
Extension activities: events provide opportunities to learn about a subject, e.g. workshop, field day or small group learning.
Adoption support: follow up support on farm which can be monitoring, webinars, one-to-one coaching, or discussion with a group of peers. 
Involving the farm team to allow for continued discussion, learning and support beyond group activities.
Seven to nine farm businesses combining in small groups allows effective learning. As farm team/partner involvement is encouraged, the total number of people involved shouldn't exceed eighteen to twenty people. 
Provide access to subject matter experts to suit the needs of the group.
Effective and enduring small groups are farmer focused and allow for flexibility to adjust and adapt to situations over time as they focus on common issues.
Provide a forum for farmers to learn from and share with other farmers. A skilled facilitator encourages an inclusive environment fostering collective responsibility to support farmers take action. 
Action Groups are made up of seven to nine farm businesses. Farmers work together with the support of professional facilitation, expert input and kick-start funding to improve on-farm productivity or to address environmental challenges. Strong peer-to-peer learning and group support is another significant benefit.
The principles of the Action Network model have also been used to support farmers setting up Catchment Communities groups.
Action Groups enable farm businesses to work together with like-minded farmers to learn from experts and also from other farmers, focusing on the topics and expertise that are most relevant to their businesses.
The small group setting and facilitator support helps build trust and confidence, providing members with the opportunity to ask the questions they want to ask, gain learnings specific to their farm business and to put real change into practice to improve productivity and sustainability.
Action Groups enable farmers, rural professionals and the sector to adapt to changes in government regulations, help farmers to better tell their stories and meet the changing views of consumers and the wider public.
Farm businesses committed to an Action Group had:
A professionally-facilitated, results-focused small group supporting their business through change.
Less risk to the farm business with kick-start funding and external support.
Help finding solutions to support the farm business in a changing world.
Connection to trusted, independent expertise.
Access to B+LNZ resources, tools, and expertise.
To tap into the knowledge and experience of other farmers.
The facilitator supported the group to form and work effectively together, guiding farmer members in deciding how they wanted to run their Action Group.  
This included:
Organising and running activities on behalf of the group as defined in the group's extension plan. This included arranging meetings and venues and communicating all necessary information to members.
Sourcing and booking experts to present on topics identified by group members and briefing experts to help them to focus on the most relevant topics for members.
Facilitating at group meetings, including making connections/ensuring all members got the opportunity to participate in discussions and expert presentations.
Working with members to review the group's extension plan and individual members' farm action plans to help ensure targets were being met.
Lead farmers are like the 'captain' of a sports team. They represent the Action Group and are responsible for being the point of contact between the facilitator, the Action Group and B+LNZ.
They were also responsible for submitting the Extension Plan and coordinating group finances.