B+LNZ's Taste Pure Nature origin brand continues to successfully market New Zealand's grass-fed difference to Conscious Foodie consumers in the U.S. and China.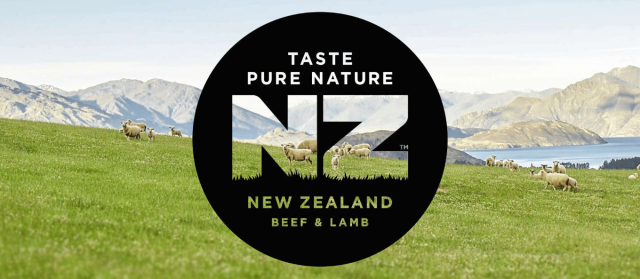 Taste Pure Nature continues to bring value to New Zealand and its sheep and beef farmers by promoting New Zealand's unique and natural grass-fed farming systems that produce high quality and premium grass-fed beef and lamb.
B+LNZ's quarterly brand survey conducted by leading insights agency, One Picture, enables us to track our campaign performance year-round. Read below the latest insights in the U.S. and China or view the full newsletter.
More U.S. consumers seek NZ grass-fed beef and lamb
In the United States, Taste Pure Nature continues to successfully influence Conscious Foodies in California, with an impressive 79 percent stating they would consider buying New Zealand lamb as a result of seeing the campaign, while 75 percent expressed the same interest in beef. 
"B+LNZ's latest brand tracking shows the value perceptions and intent to buy and recommend New Zealand products are significantly higher than ever before," says Wan.
The ongoing marketing activities include paid advertising campaigns, utilising billboards strategically placed in high-traffic areas across Los Angeles in working with renowned retailers such as Whole Foods, Ralphs, and Jon's Fresh Marketplace. These billboards have successfully generated a staggering 52.5 million impressions and resulted in a pleasing 15 percent increase in sales volume of Silver Fern Farms product compared to the previous campaign period.
Digital marketing continues to play a vital role in Taste Pure Nature's U.S. marketing strategy. By tailoring some advertising towards key holidays, including Easter and Memorial Day, these campaigns generated over 9.7 million impressions, 1.2 million brand video views and 54,000 clicks to the website.
Recognising the power of influencers, Taste Pure Nature joined forces with high-profile figures such as What's Gaby Cooking, FlavCity, Plays Well With Butter, The Real Food Dietitian's, and Spoon Fork Bacon. These influencers, with their combined reach of 4.1 million Conscious Foodies, help elevate the brands exposure and educate consumers about product availability and where-to-buy.
Social media continues to be used as a hub for inspiration and engagement with Conscious Foodies.  In May, Taste Pure Nature's Facebook page gained a remarkable 88.4 percent increase in followers.
Taking New Zealand's sustainability initiatives to a global stage, B+LNZ is working with Triple Pundit/3BL, a professional digital content distribution platform, on a series of sponsored articles to highlight what the world can learn from New Zealand about sustainable agriculture. Learn more about these articles here. 
Chinese Conscious Foodies rank NZ grass-fed at the top
The Taste Pure Nature campaign continues to have a positive impact on Chinese Conscious Foodies purchase intent, with New Zealand being the country of origin most strongly associated with good taste for beef (29 percent) and quality for lamb (18 percent).
Taste Pure Nature also launched its WeChat Mini Program in May, which is designed to act as a as a mini-website for consumers to learn more about New Zealand grass-fed beef and lamb and where to buy them. 
Wan says, "With over 25,000 views and 2,800 clicks on the where-to-buy function in the first few weeks, it is evident that consumers are engaging positively and showing intent to purchase."
Embracing Chinese cultural traditions, Taste Pure Nature is leveraging holidays and seasonal festivities to encourage more consumption occasions for New Zealand beef and lamb. In addition to a successful Chinese New Year campaign, B+LNZ launched a summer campaign in partnership with Go Kitchen, the largest cooking and recipe app in China, centred around enjoying seasonal produce in the outdoors. The campaign involved a combination of influencer activity, digital advertising, and a consumer competition to generate more than 62 million impressions and 754,000 engagements in its first phase.
Similar to the U.S., social media plays a crucial role in expanding Taste Pure Nature's presence in China. With a 42.3 percent increase in followers across WeChat, RED, and Douyin (similar to Tik Tok) accounts, the programme utilises influencers, content and paid advertising across various categories to increased brand exposure and readership.
Looking towards the future, Taste Pure Nature aims to launch an innovative pilot project in China, testing the feasibility of branded ready-to-heat beef and lamb meals. By exploring new value-add retail pathways and evaluating the success of the project, the programme seeks to provide exporter brands with more opportunities to showcase their products and meet consumer demands.
More information about Taste Pure Nature