China remains a must-win market for New Zealand exporters.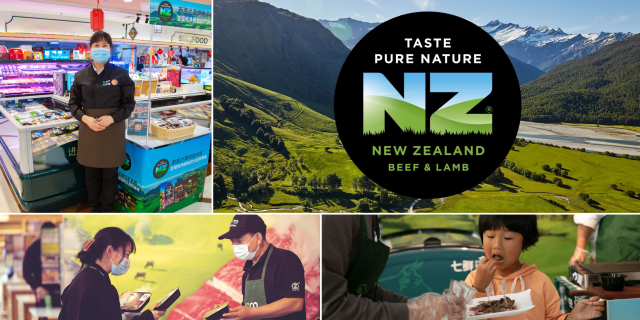 Although the pandemic has undoubtedly created unique challenges for our industry, there is no doubt continued investment in building the Taste Pure Nature brand will pay off as things improve.
"Our paid advertising and social media activity are key drivers of lifts in awareness and consideration for our brand and New Zealand products," says Michael Wan Beef + Lamb New Zealand (B+LNZ) Global Manager – New Zealand Red Meat Story.
"Our agile and adaptable brand marketing strategy has been designed to take advantage of new opportunities that arise during these times and enables us to remain relevant and front of mind for Chinese Conscious Foodies.
"Despite recent challenges in-market, the Taste Pure Nature campaign in China continues to resonate with consumers and drive positive sentiment and purchase intent." 
Awareness of New Zealand farming practices has strengthened amongst Chinese Conscious Foodies, and now sits higher than pre-campaign benchmarks on most aspects – particularly in relation to New Zealand's strong reputation for producing high quality grass-fed beef and lamb. 
"Our aspiration target has also seen a healthy lift, with more than 80% of Conscious Foodies stating New Zealand is their preferred country of origin for grass-fed beef and lamb when they can buy it," says Wan.

Significant growth in Chinese social media channels
To maximise potential reach and engagement over the past few months, adjustments were made to the Taste Pure Nature content strategy for social media and influencer partnerships.
As a result, average video views on Taste Pure Nature's Douyin account (Chinese TikTok) increased by 330% compared to 2021 and have generated more than 1.7 million impressions. 
"Our new working model for Key Opinion Leader (KOL) partnerships on WeChat has proven to be successful too, with our latest collaboration resulting in more than 17,000 views," says Michael.
On Taste Pure Nature's Little Red Book platform, owned and collaborative content with KOL's and Key Opinion Consumers (KOC's) has generated more than 430,000 impressions and 35,000 engagements.
Watch Pure South campaign in action
Prior to the COVID-19 outbreak, B+LNZ partnered with Alliance and its Pure South brand in the lead up to Chinese New Year to implement an in-store activation across supermarket retailers in Beijing. 
Trained brand ambassadors, in-store displays, and gifting of Taste Pure Nature cooking sauces were used to educate consumers on the benefits of New Zealand grass-fed lamb.
Watch the Pure South campaign in action.    
Consumer research shows 
We recently completed a research project with insight agency, The Silk Initiative, to identify the most effective creative direction for the Taste Pure Nature brand in China. 
The project involved developing several creative tactics and testing these with Chinese Conscious Foodies to find a direction that was localised, unique within the category and elevated the New Zealand grass-fed origin story beyond meat. 
The results from this work will be integrated into Taste Pure Nature's brand guidelines and inform future creative and content development.
Taste Pure Nature vending machines
August marks the soft launch of two Taste Pure Nature vending machines in Shanghai. These machines will contain a curated selection of ready-to-eat, fresh and delicious New Zealand grass-fed beef and lamb meals developed by local chef, Jamie Pea. 
Once unveiled to create some initial buzz, the machines will be rolled out across targeted locations in Shanghai for consumers to experience. We will be using social media, point-of-sale material and merchandise to educate consumers on the New Zealand origin, grass-fed benefits, and product availability when they purchase their meal.  Watch this space!
Red Meat Sector working together on Chinese action plan 
To support the sustainable growth of the New Zealand red meat category in China, B+LNZ recently partnered with the Meat Industry Association (MIA) and New Zealand Trade & Enterprise (NZTE) to develop and implement a joint two-year Action Plan. 
The goal of this plan is to provide a strategic framework that enables the sector to better capitalise on opportunities and manage risks by providing transparency across each of the stakeholders' key workstreams and highlighting avenues for collaboration. 
This includes identifying and creating market opportunities, building consumer preference, strengthening relationships with industry counterparts, and improving trade access. 
Involving New Zealand exporters is a key part of the development phase and will ensure any future recommendations and actions are aligned with the sectors goals for China.
Further consumer research from B+LNZ's Market Development team
B+LNZ's quarterly brand survey conducted by leading insights agency, OnePicture, enables us to track the Taste Pure Nature campaign performance in the U.S. and China year-round. View the latest quarterly reports for both markets here. 
B+LNZ partners with Quantiful to monitor social conversations and sentiment at scale relating to our competition as well as beef, lamb and alternative proteins.
The summary report for the latest round of U.S. tracking is available here (six month period October 2021 to March 2022).