Over 300 processors, farmers and industry professionals gathered at the 2023 Red Meat Sector Conference in Auckland, hosted by B+LNZ and the Meat Industry Association. The discussions focused around the theme of 'Driving sustainability, value and growth'.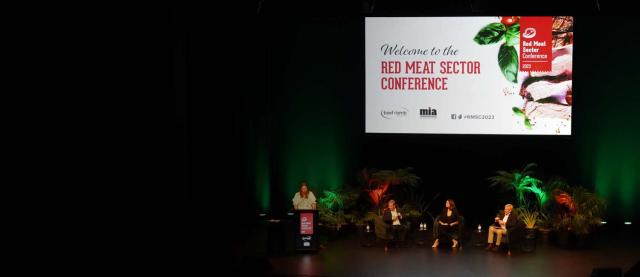 The 2023 Red Meat Sector Conference, held at the SkyCity Theatre in Auckland, provided processors/exporters, farmers, industry leaders and politicians a platform to engage, collaborate, and envision the future of New Zealand's red meat sector.
With a record number of attendees, the eagerly anticipated event included a cocktail opening, full day conference and the Maersk Gala Dinner where National Party Leader Christopher Luxon addressed the audience.
B+LNZ Chair Kate Acland shared some insight on The Country here. 
Highlights
Political debate: Damien O'Connor vs. Todd McClay
One of the conference highlights, the political debate, featured Minister Damien O'Connor and National's Todd McClay. 
Moderated by stuff.co.nz political journalist Tova O'Brien, both O'Connor and McClay presented their strategies for supporting the red meat sector and navigating the complexities of global trade and markets. 
The at-times heated debate covered the two parties' policy positions on immigration, carbon farming, sequestration, the NZ-EU FTA, India, tax and more.
As the debate unfolded, tough questions were asked from the audience including around what share of greenhouse gas emissions should be allowed to be offset using forestry. As  a country that allows 100 percent offsetting, New Zealand is an outlier (alongside Kazakhstan).
A fresh perspective on farming: Nadia Lim 
Attendees enthused about celebrity chef Nadia Lim's fire-side chat where she talked openly and honestly about her and her husband Carlos' farm at the base of the Crown Range in Central Otago. 
Nadia shared her deep admiration for the work farmers do to produce New Zealand's world-leading produce and said, "every single person should thank a farmer three times a day", otherwise they wouldn't be able to eat. 
She sees her role in telling farmers' story and is passionate about connecting people to their food.
Touching on the popular TV show 'Nadia's Farm', which shows an unfiltered view of farming, Nadia said she felt an obligation to share the complexities and challenges of running a farm.
She passionately said she believes New Zealand has a unique opportunity to lead the world in being storytellers of our sustainable farming world-view.
The future is here: Michael McQueen
Award-winning speaker and trend forecaster, Michael McQueen, explored how the COVID-19 pandemic has catalysed change, transforming consumer behaviour, markets, and workplaces worldwide. 
He highlighted the need for red meat sector leaders to position themselves for success in this rapidly evolving landscape and target the growing Generation Z market.
Trade in a time of turbulence: Vangelis Vitalis and panel discussion
Ministry of Foreign Affairs and Trade Deputy Secretary Vangelis Vitalis shed light on the emerging risks and opportunities in the world of international trade. 
Vangelis was joined by a panel of processing and exporting leaders who discussed emerging standards and consumer expectations. 
One of the aims of the session was to provide some insight into how New Zealand's red meat sector operates in export markets. This sophisticated commercial strategy relies on exporters selling product into over 100 countries at simultaneously, but varying volumes between markets as prices fluctuate to maximise returns.  
This has ramifications for how we raise and process sheep and beef in New Zealand, as it means we need to meet customer and market expectations around our products, especially around animal welfare, food safety or environment. 
The panel noted that this pressure is only going to increase, particularly in the area of carbon emissions, and especially from Generation Z customers. Vangelis added the additional challenge of proving to other Governments that our products meet these high standards to secure future trade negotiations.
Sustainable peak performance: Jamie Fitzgerald
The conference concluded with a powerful closing address by Jamie Fitzgerald, a modern-day pioneer and inspirational figure. 
He emphasised the importance of building resilience and mastering the uncertain through actionable steps and strategic planning.
Interactive breakout sessions and panel discussions
In addition to the main sessions, the conference offered attendees a chance to participate in breakout sessions and panel discussions, providing in-depth insights on topics such as innovation and technology, global health and sustainability of livestock products, and opportunities for sequestration in farming.
More information
Learn more by visiting the Red Meat Sector Conference website.