Rana-Jade is completing Level 4 of the Whangarei A&P Society Farm Intern programme. She's working on a 213ha beef property in Moerewa whilst studying. Read her story.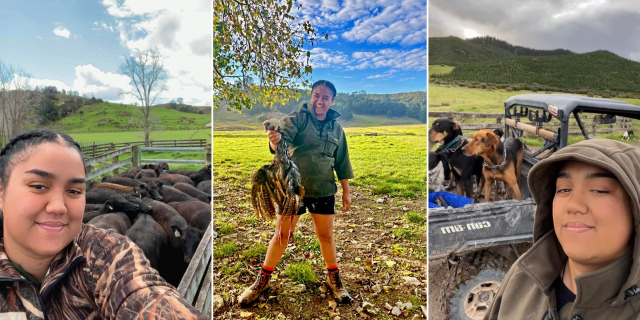 Rana-Jade is completing Level 4 of the Whangarei A&P Society Farm Intern programme.
She works on a 213ha beef property in Moerewa whilst completing her course.
"I enjoy applying my new knowledge from the course to farm work in real-time. It has been great gaining trust from my boss to do some tasks alone and growing my skills and passion for genetics," she says.
Below, Rana-Jade tells us more about what is has been like studying whilst working on farm and what's next for the 19 year old. 
As part of its People and Training workstream, Beef + Lamb New Zealand (B+LNZ) supports the Farm Intern programme amongst other similar initiatives.
What has been your highlight while being on the course? 
Definitely passing level 3 and moving onto Level 4. It's been good moving on in the job I'm doing and getting more responsibility on farm.  Sometimes it's very repetitive but I really like what I'm doing overall.
What is the most important thing you have learnt so far?
Having a good work ethic and believing in yourself. I mean I know I can work hard, but actually doing it day in and out can be challenging. 
I feel like I've really progressed this year and learnt to keep on top of my assignments as well as on-farm work.
What are your strengths on farm? I.e. what are you good at?
I think stockmanship is something I'm good at and enjoy doing. I have to say Level 4 is a lot easier than I thought it would be at the start. When I looked at those assessments at the start of the year, I thought "wow that's hard", and now I'm actually doing that stuff on the farm means I can do more of it. I'm ahead of the assignments and I actually understand what I'm doing on farm which is rewarding. 
What are your career aspirations?
I enjoy the Bull breeding side of farming. So that's something I'd like to do a lot more of. Looking at the genetics side of good Angus bulls and improving the genetics and the growth on the farms.  That's definitely something I'd like to learn more of on my next farm.
I think I'd like to go somewhere different in New Zealand. Looking at the buyers catalogues I know there are some good breeders in Hawke's Bay, so I'd like to maybe go down there some day. I really like Angus, but I might look at Charolais or Herefords.
I'd like to learn more about the business side of things too at level 5.  So, I'd like to work for a few years and learn everything I can, then see what I can do to learn the business side of things.
Do you think the course has helped you with your career plans?
Definitely. If I didn't go down the practical on-farm route, I probably would have gone to Uni in Waikato and would've been bored. So, staying up here and working has been so good. I think when I want to move on to another farm, I'll bring more knowledge and skills to be successful.
Would you recommend the Farm Intern Programme to others?
Yes, definitely. I think you have to be willing to work really hard. Farming can be tough but it is really rewarding. If you want to do it, go for it!  Be confident and know what you want to do (e.g. I knew I wanted to get into sheep and beef and not dairy farming). 
Interested in hosting an intern?
The Whangarei A&P Society Farm Intern programme are looking for farmers interested in hosting interns. Register your interest by emailing Chris Mason at Chris@wap.org.nz.
More about the Whangārei A&P Farm Intern programme
The programme takes a flexible approach. Some interns are living and working on farm, while others are commuting. Some are being paid the new scaled payment plan and others are being employed from day one. 
About the Whangārei A&P Society
Whangarei Agricultural & Pastoral Society is a not for profit, charitable organisation who is passionate about linking rural and urban. It is a well-established and respected local business with over 200 members. 
Most widely known for the annual A&P show in Whangarei which has been held since the late 1860's, the Society has a keen interest in supporting the training and development of young people in the agriculture industry. For 17 years an annual scholarship had been awarded to young people studying in the industry and last year the Society offered two scholarship to Northlanders for the Kellogg Rural Leadership Programme.