Collaborative partnerships with meat processing and exporting companies are a key driver behind the growing success of Taste Pure Nature in the U.S. Read about the latest U.S. campaigns and what's next for the origin brand.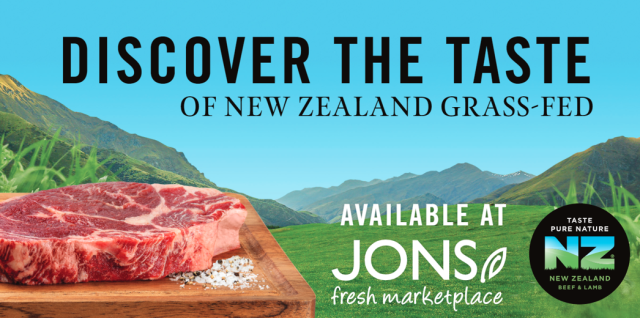 In the United States, the appetite for New Zealand grass-fed beef and lamb remains strong. Thanks to increasing demand for healthier and more sustainable food, 78% of Conscious Foodies are willing to pay a premium for New Zealand grass-fed lamb, and 60% are willing to do the same for grass-fed beef. 
"Our reputation as a leading, high-quality producer continues to strengthen and has meant that Conscious Foodies have purchased New Zealand grass-fed beef and lamb more frequently than Australian alternatives in the last six months," says Michael Wan, B+LNZ's Global Manager – New Zealand Red Meat Story.
Below is a summary of live and upcoming campaigns. 
Billboards and Digital Media Campaign
Building on the success of last year's media campaign that generated over 130 million impressions, we have increased our branded presence across L.A. for the duration of April and May with 24 billboards strategically plotted in high traffic areas and within proximity to key retailers that sell New Zealand grass-fed beef and lamb. 
These billboards are supported by a paid digital media campaign targeting Conscious Foodies across Google and Facebook. Since going live in late-March, our digital campaign has generated over 1.3 million Google impressions and nearly 500,000 Facebook impressions.
Taste Pure Nature at JON Fresh Marketplace stores
For the first time since launching the programme in the U.S., the Taste Pure Nature brand will also appear in-store alongside Silver Fern Farms in 12 JONS Fresh Marketplace stores around L.A. Shoppers will find it easy to spot Silver Fern Farms new Net Carbon Zero by Nature Beef range thanks to a co-branded wobbler which works to grab consumers attention.
Atkins Ranch Spring Recipe Roundup partnership
In March, B+LNZ partnered with Atkins Ranch on a Spring Brunch recipe roundup with Family Features, a leading online publishing service specialising in distributing food and lifestyle content to newspapers, magazines and websites in the U.S. The recipe heroes Atkins Ranch grass-fed Lamb Loin Chops and is guaranteed to deliver more than 200 million online impressions.
Atkins Ranch Earth Day Broadcast Segment 
B+LNZ and Atkins Ranch collaborated with registered dietitian, Rania Batayneh, on an Earth Day broadcast segment on KOIN AM Extra in the U.S. to build awareness of New Zealand's commitment to environmental and animal welfare. Raina directed viewers to the Taste Pure Nature website to learn more, or to local Whole Foods markets, where Atkins Ranch products are available. Watch the clip on Raina's Instagram account (skip to 03:22). 
Silver Fern Farms Easter E-Commerce Campaign
At the start of April, B+LNZ and Silver Fern Farms kicked off a month long paid digital campaign to promote New Zealand grass-fed lamb via the Silver Fern Farms direct-to-consumer e-commerce platform. The campaign ties in with the Easter holiday, which is a key period for lamb consumption in the U.S, and heroes a compelling 20% offer off all Silver Fern Farms New Zealand grass-fed lamb products. Co-branded ads across Google, Facebook and Instagram will target Conscious Foodies who are interested in lamb, home delivery and cooking; and a series of direct marketing emails and blog posts will educate consumers on the New Zealand grass-fed difference and provide recipe inspiration.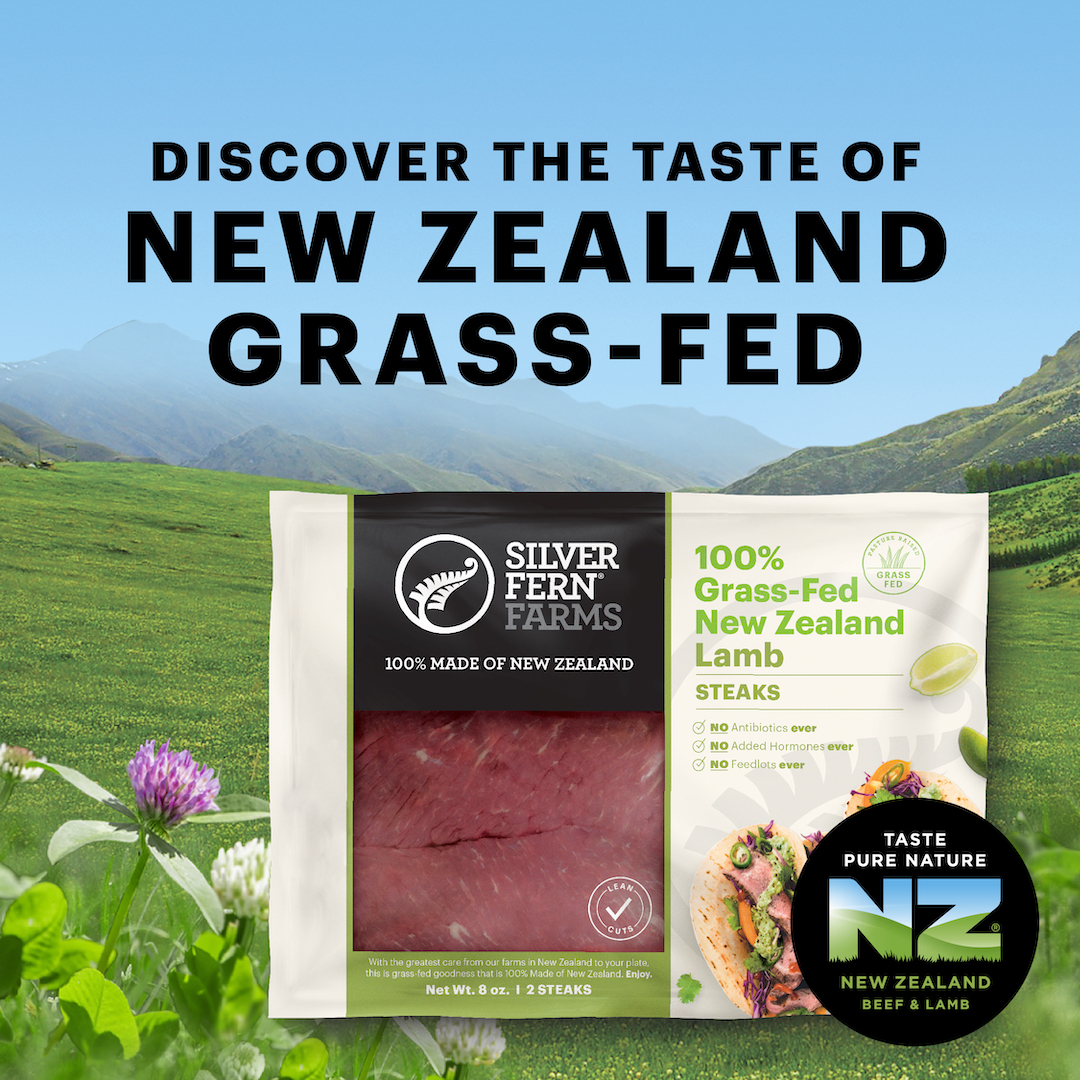 Meredith Digital partnership
Engaging in strategic partnerships enables us to enhance our brand equity in new and creative ways. In the lead up to the New Year, we worked with Meredith Digital, one of the leading publishing houses in the food and lifestyle industry in the U.S., to publish branded Taste Pure Nature content to an extensive network of top-tier outlets including Martha Stewart, Eating Well and Food & Wine. This generated more than 10.5 million impressions, 4.2 million video views and 16 thousand clicks to our website in just 12 weeks.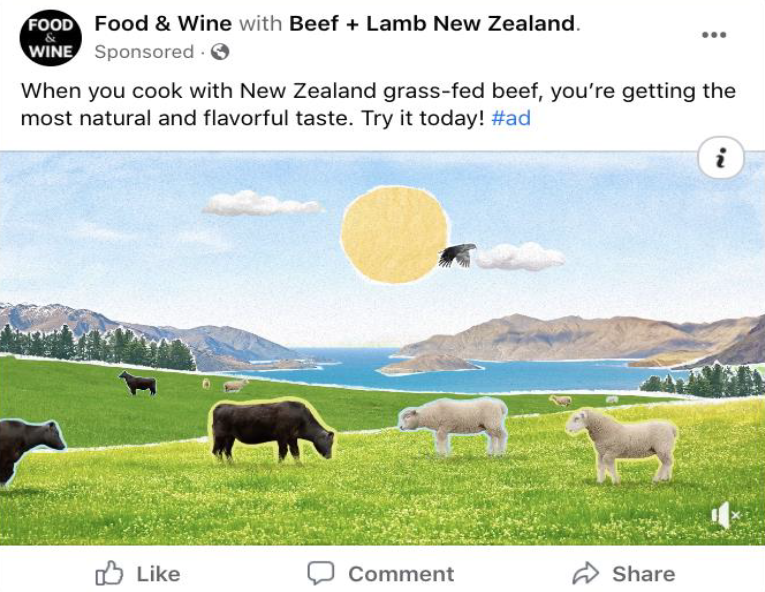 Social Media
Social Media continues to be one of the most effective ways to reach and engage with Conscious Foodies in the U.S. To date, we've generated more than 550,000 engagements across our Facebook, Instagram and Pinterest accounts. 
Ongoing collaboration with influencers
April marks the start of our ongoing partnership with five high-profile influencers, including What's Gaby Cooking and Max the Meat Guy. By regularly pushing out B+LNZ digital and social content in a way that feels authentic to their channels, our influencers' fans and followers will view them as New Zealand grass-fed beef and lamb ambassadors. 
Upcoming activity 
B+LNZ and Silver Fern Farms  will kick off an influencer campaign in May with talent across Tik Tok, Facebook, Instagram, and Pinterest to help build awareness and drive trial of Silver Fern Farms new Net Carbon Zero by Nature Beef range in the U.S. 
Our second flight of paid digital media will also go live mid-May and includes a unique partnership with L.A Times, one of the most cited news publishers in the local media industry. Our goal is to reach even more Conscious Foodies by displaying targeted ads across the L.A. Times website, including the Food Section ,which is known to have a loyal following of Cooking Enthusiasts. 
We will keep you updated here.
Find out more about Taste Pure Nature
Taste Pure Nature is used as a global brand platform to underpin exporters' marketing programmes and enhance the positioning of New Zealand red meat. It has been developed in partnership with meat processors and farmers.