Farmers are telling us they want to know what agricultural emissions pricing could mean for their businesses. While the Government has yet to make a decision on the system and prices, B+LNZ is working on guidance on how to estimate potential costs using existing tools.

Last week, recommendations were released outlining an alternative pricing system to agriculture going into the Emissions Trading Scheme (ETS), based on a farm-level levy, with agricultural emissions to be priced from 2025. We emailed farmers about the recommendations, what they mean and what happens next – you can find that email on our website. 
Chief executive Sam McIvor says B+LNZ has received queries from farmers and rural professionals about how to translate the recommendations into potential on-farm costs. 
"We completely understand this is of significant concern to farmers who want to understand how agricultural emissions pricing will affect them. 
"The first thing we want everyone to understand is that the prices used in the recommendations paper were for modelling purposes and are not recommended prices, particularly the 2030 modelled prices. 
"The partnership recommendation is that the prices are kept as low as possible to achieve the desired outcomes and that they should be no higher than if agriculture had gone into the ETS. To provide some certainty the partnership has also recommended the methane price start in 2025 at a maximum of 11c per kilo and be held for three years.  
"Farmers strongly expressed concerns during the consultation period about their ongoing business viability, and that will remain at the forefront of our minds. While we believe the recommended farm-level levy approach is better than the ETS for our sector, fair and equitable pricing is key and that's been embedded in He Waka Eke Noa's pricing principles from day one."
B+LNZ released its own modelling last week that supports the need to take a cautious approach to pricing and we will keep pushing for this along the process. You can find the modelling report here (PDF, 1.3MB).
Sam says farmers are keen to crunch the numbers but he recommends holding off until B+LNZ provides more detailed guidance over the next week or two, as there can be confusion around using the information from existing tools. 
"Many of the existing carbon calculator tools convert methane into a CO2 equivalent using GWP100, which multiplies the weight of methane by 25 to 28 times. If farmers plug potential methane prices into these existing tools it will significantly overestimate the costs you could face.      
"The He Waka Eke Noa proposal does not use GWP100 for methane. Farmers will pay a unique price for methane multiplied by the actual weight of methane produced. This reflects the fundamental science that methane is a short-lived gas that only needs to be reduced and stabilised and does not need to go to zero.  
"B+LNZ's GHG Calculator does show the weight of individual gases – consistent with our long-standing position of needing to take a split gas approach. The trick is using the right info in the calculator which we'll be providing more detailed explainers on."
Other tools such as OverseerFM just use GWP100 for methane and B+LNZ will be providing advice on how to convert these back to weight.  
While farmers are keen to figure out how much they may have to pay, it is also vital to remember that farmers will also be able to get recognition for their sequestration and get incentive payments if they use technologies that reduce their emissions.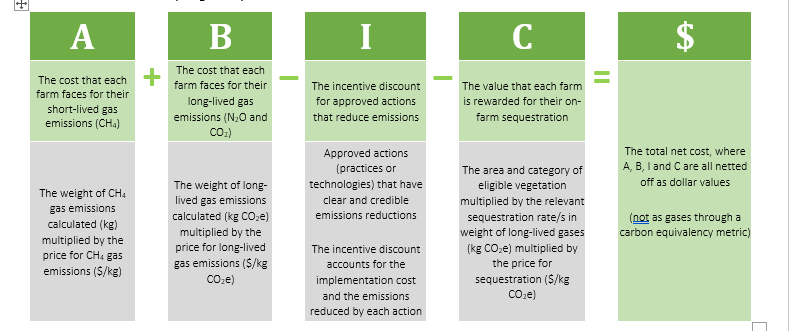 The partnership is recommending the development of a calculator that farmers can use to calculate their emissions, sequestration and incentives. The objective is that this calculator will be integrated with existing systems like Overseer and FARMAX, so that farmers only have to enter their data once and can use platforms that they are familiar with.  
"In parallel to B+LNZ's work on He Waka Eke Noa, we're also pushing hard for science-based emissions reductions targets. We don't believe the current methane targets are justified based on the latest international science about methane's warming impact and we'll continue to advocate – along with DairyNZ, Federated Farmers and others – for the Government to report on warming as well as emissions and for the use of better metrics such as GWP* for setting targets," says Sam.