We want to give you an update on how Omicron is impacting the processing of livestock and the ongoing disruption to the global supply chain.


Joint statement from Beef + Lamb New Zealand (B+LNZ) and the Meat Industry Association (MIA)
Livestock processing
New Zealand's red meat processors are operating their plants according to strict guidelines including physical distancing, temperature checking and rapid antigen testing to prevent the spread of COVID-19.
However, the processing sector is not immune from the impact of Omicron. There are rising levels of absenteeism at plants as the community spread of COVID-19 gathers pace.
A number of people are being required to isolate or stay at home to look after family members. This is impacting processing capacity and resulting in unavoidable processing delays for farmers.
The length of the delays will depend on how far each region is through the processing season and every processor and plant will have different run modes for ovine and bovine and the class of animal they process.
According to the latest processing volumes data from B+LNZ's Economic Service, lamb in the North Island, bull in the South Island and mutton in both islands, are lagging behind previous years. Some of this has been driven by seasonal issues, for example we've had a lot of feedback from farmers about the difficulty of finishing lambs this season, and some by processing constraints.
However, we are likely to see the processing capacity situation deteriorate further as the impacts of COVID-19 start to bite. We will be keeping a close eye on this over the coming weeks. 
Fortunately, recent rain has alleviated feed concerns in most parts of the country, although there are some dry pockets in Southland and Northland.
Farmers are encouraged to talk to their individual processors to understand how the delays will affect them.
What are meat processors doing?
In response to Omicron, processors have introduced a range of measures to mitigate the impact of the pandemic including:
moving livestock to other plants to process farmers' animals as quickly as possible and manage animal welfare risks
extending their processing seasons
reconfiguring their shifts as best as they can to manage the impact of increased absenteeism
increasing the minimum hourly rates to attract new employees and ease the labour shortage.
What is Beef + Lamb New Zealand doing?
continuing to monitor processing data and feed that back to the industry
providing farmers with technical information that will allow you to make timely decisions around feed planning, animal management and how you can look after yourself and your family
working closely with the Ministry for Primary Industries and other primary sector groups.
Advice for farmers
Visit the B+LNZ COVID-19 information page.
Talk to your key advisors, neighbours and friends.
Although there is currently not a pressing feed situation, consider putting a feed budget in place and ensuring you have feed reserves in the event you need to hold onto livestock for longer.
Call 0800 BEEFLAMB (0800 233 352) for one-on-one advice.
Global supply chain
While demand and prices remain solid, there remains significant port congestion, vessel schedule changes and a shortage of containers, which is causing bottlenecks and increased costs across the supply chain. The Ukraine crisis is also increasing oil prices, which means shipping costs are rising.
Unfortunately, the sector does not expect the supply chain situation to improve over the next 12 months.
Dan Boulton from Silver Fern Farms and Mark Harris and Nick Beeby from B+LNZ discussed the disruptions to the supply chain in a recent podcast.
Thank you
It has been a tough start to the year for some and there will be some challenging times ahead. Although the global demand for protein is firm, we need to be mindful of the continuing volatility. Despite this, the red meat sector is excelling once again. It has been great to see the red meat sector pulling together and supporting each other. Take care out there.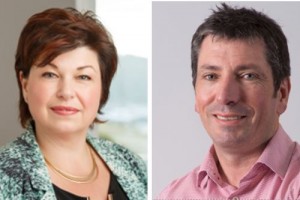 Sirma Karapeeva
Chief executive
Meat Industry Association
Sam McIvor
Chief executive
B+LNZ