The recent community-led event in Ruatoria provided aid for farmers and communities still grappling with the aftermath of cyclones Hale and Gabrielle.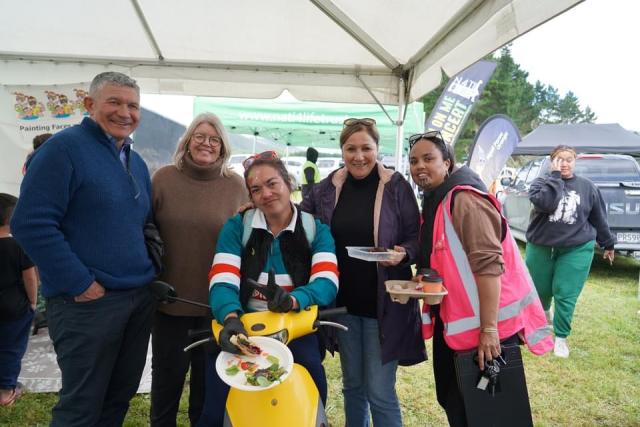 Nine months post-cyclones, rural communities along the east coast are still working hard to bring some form of normality to their whānau, whenua and businesses.
Beef + Lamb New Zealand (B+LNZ) Mātanga Whenua Māori Advisor Pania King, in collaboration with the Rapid Relief Team (RRT), Ngāti Porou Runanganui and Oranga, and Indevin NZ led the East coast community event in Ruatoria on Friday 10 November for farmers and communities impacted by cyclones Hale and Gabrielle.
The event provided the resources needed to help with recovery from many sponsors to aid those facing challenges in the rebuilding process and also featured a barbecue kai, a bouncy castle, sweet treats, health checks, and specialist advice.
B+LNZ Mātanga Whenua Māori advisor, Pania King, who orchestrated the event alongside B+LNZ's regional team says it was important for this event to not only address the immediate needs but also the overall wellbeing of the community.
"We had over 200 impacted farmers and community members attend the event where we celebrated our resilience as a community whilst also acknowledging there is a lot of mahi still to be done."
"The event was driven from the ground up by wanting to offer real value and solutions to those in need. That's why it was fantastic that we were able to offer tangible resources like fencing materials, floodgates, water pumps and water tanks.
"We are grateful to the sponsors who made it all possible and the behind-the-scenes team who worked so hard to make it happen."
The event took inspiration from the successful RRT's community support and distribution day in Gisborne on September 1st by providing similar relief such as fencing materials, but without the need to travel significant distances for support.  
B+LNZ Mātanga Whenua Māori advisor Pania King is still receiving thanks and appreciation from many who attended this evert.
The event was sponsored by B+LNZ, RRT Rapid Relief Team, Indevin NZ, NIWE, Ngāti Porou Runganui, Ngāti Porou Oranga, Coates Associates LTD, BDO Gisborne, Radio Ngāti Porou, Air Ruatoria, FMG, Ravensdown, Ballance Fertiliser, Fergus Rural, Headline Ballance st, Property Brokers, H Blackbee Contractors EC, PGG Wrightson, Thinkwater Gisborne.