Beef + Lamb New Zealand's (B+LNZ) brand tracking shows Chinese Conscious Foodies remain highly aware of New Zealand's unique grass-fed farming practices and engaged with Taste Pure Nature marketing campaigns.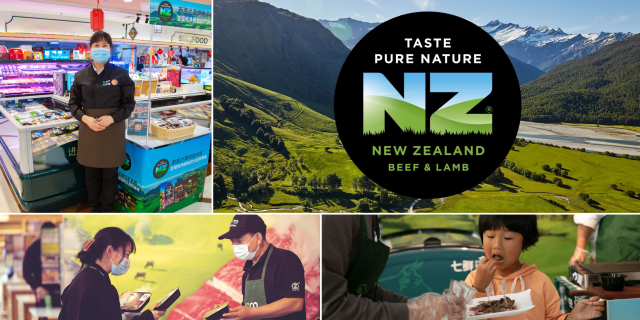 B+LNZ's Taste Pure Nature marketing campaign in China continues to drive positive results.
B+LNZ's tracking shows awareness of New Zealand's unique grass-fed farming practices remains high at 81%.
There has also been a significant lift in Conscious Foodie consumers who remember the campaign (up 13% in the latest tracking period) and state the campaign strongly influences their consideration, likelihood and recommendation to buy New Zealand beef and lamb.
Read the full quarterly report here.
The top motivators for meat consumption remain quality, taste, trust and safety with New Zealand beef and lamb continuing to rate highly on all aspects with excellent perceived value overall.  
'From New Zealand, Naturally Good' was a three-month brand marketing campaign across key Chinese social media platforms, including WeChat and Little Red Book, and was designed to build awareness and aspiration to buy New Zealand grass-fed beef and lamb.  
"Partnering with New Zealand exporters enabled us to link our digital content and advertising to where-to-buy information so that Conscious Foodie consumers could purchase product either online or offline," says Michael Wan, B+LNZ's Global Manager – NZ Red Meat Story.
As a result of this campaign, our partners Alliance and Silver Fern Farms, had more than 3.7 million people discover and learn about their brand. They have both expressed interest in collaborating further on upcoming seasonal marketing campaigns.
Overall, more than 2.3 million people watch the campaign brand video which generated more than 855,000 engagements. You can watch our campaign video here.
The Taste Pure Nature campaign uses social media as one of the primary platforms for reaching and communicating with Chinese Conscious Foodies.  
Since relaunching the WeChat account in September, with a focus on creative content and engaging topics that resonate with our consumers, the channel has had over 3,000 new followers and increased the readership of content by 55%. 
After refreshing its content strategy on another popular social channel Little Red Book, there has been a 360% increase in monthly engagement.  
"This continues to be an effective way for us to link awareness to available product and support the initiatives our New Zealand exporters are launching in-market," says Wan.
A key focus for this year's Chinese marketing programme is to leverage traditional holidays and seasonal festivities, and encourage New Zealand grass-fed beef and lamb into more consumption occasions.  
In January this year, B+LNZ launched a Chinese New Year campaign in partnership with Alliance and Silver Fern Farms, on the largest cooking and recipe app in China called 'Go Kitchen'. 
The campaign involved an online cooking competition and encouraged Go Kitchen users to try New Zealand grass-fed beef and lamb in their Chinese New Year cooking. 
Over three weeks, the campaign generated more than 22 million impressions and drove 299,000 clicks to the campaign landing page where consumers could learn more about the New Zealand grass-fed origin story and where-to-buy branded product.  
B+LNZ is also working on the launch of a WeChat Mini App Programme in May which will act as a Taste Pure Nature website where Conscious Foodies can learn more about the New Zealand origin story and most importantly, where they can buy our exporters products. 
B+LNZ's next seasonal campaign with Go Kitchen and New Zealand exporters will launch in May and is centered around the Chinese lunar calendar. 
Read the full quarterly report here.
Stay up-to-date
The 'Bite of Taste Pure Nature' quarterly e-newsletter is packed with more information and updates like this for the U.S. and Chinese markets, and includes market intelligence and performance tracking. Stay up to date with New Zealand's beef and lamb origin brand, subscribe here.