Beef + Lamb New Zealand (B+LNZ) is using Earth Day celebrated 22 April, as an opportunity to showcase how Kiwi sheep and beef farming is better for the planet because of the way we naturally farm using easily shareable Making Meat Better infographics.

"While our farmers recognise there's still more work to be done, we're extremely proud of what farmers are doing to protect and enhance our environment and there are some really good environmental stories to tell," says Rowena Hume, B+LNZ's General Manager Communications & Engagement. 
"For farmers, every day is Earth Day because they know that sustainability and productivity come hand in hand."
Here are some ways that NZ sheep and beef farming is better for the planet: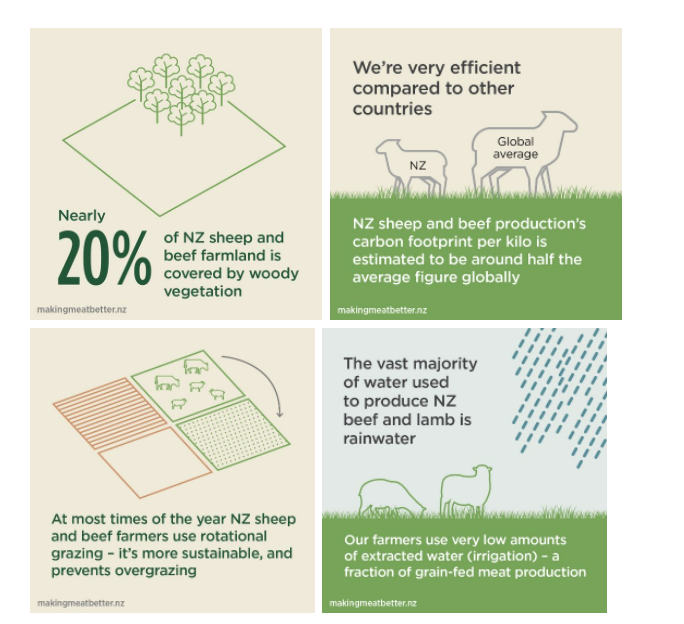 Share some facts
Help us spread the good news by sharing infographics like these. You can find them on the Making Meat Better website.
Taste Pure Nature is also celebrating Earth Day
B+LNZ and Atkins Ranch are partnering with registered dietitian, Rania Batayneh, on an Earth Day broadcast segment in the U.S. to build awareness of New Zealand grass-fed lamb and promote our farmers environmental stewardship. Raina will be preparing some simple lamb chops whilst directing viewers to the Taste Pure Nature website to learn more about the New Zealand origin story  and to local Whole Foods markets, where Atkins Ranch lamb products are available.  
Keep a lookout for Taste Pure Nature's social channels (Facebook, Instagram and Pinterest).
B+LNZ's environment-focused resources
We have a bunch of resources to help understand our environment. This e-learning module answers questions like: How do consumers and the environment connect? And where do farmers fit in?