Thursday, 21 June 2018
A farmer-led steering group has been pushing for the introduction of biocontrol agents to help control Horehound which invades lucerne crops and pastures in arid dryland areas between Central Otago and Hawkes Bay.
An economic impact study carried out by Manaaki Whenua - Landcare Research conservatively estimates the weed is costing farmers $6.85m annually.
Lincoln University's Professor Derrick Moot says Horehound has no natural predator In New Zealand and while farmers spend money grubbing and spraying the weed, it wins out because it grows in winter when lucerne in inactive.
The only agrichemicals that will kill Horehound will also kill lucerne and have a long soil residue time, which stops legumes being planted in that ground for three to four years.
Derrick is concerned that Horehound is increasing in prevalence and is making its way into vulnerable dryland areas.
Ronny Groenteman from Manaaki Whenua - Landcare Research is coordinating the science behind the application. She says they would like to introduce two species of moth; one of which has a caterpillar that feeds on the foliage, while the caterpillar of the other species eats the roots.
As each species has different climatic preferences, they expect that between then, the two species should cover much of the range of Horehound in New Zealand.
Originally from Europe, the moths have been established in Australia for 20 years where they have successfully reduced the weed populations down to a level where it is no longer considered a weed.
Ronny says highly-reliable safety tests were carried out in Australia prior to their release in that country and the steering group is proposing that no further testing would be required before releasing them here.
There are five native NZ species in the same family as Horehound. Closely related species native to Australia were found safe from attack in tests over there, which is consistent with the history of safety in weed biocontrol.
Ronny says insects that are tied to specific groups of plants have evolved in tandem with these plants to overcome their defence mechanisms and it would take an evolutionary time-scale for them to change that and jump host.
She cites the examples of Monarch caterpillars which starve and die once they have stripped Swan Plants and similarly White Cabbage butterflies will only feed on brassicas.
"When they have run out of their food plant, they don't just go to feed on something else in the garden, do they?
"Tight relationships are very common in the world of plant-eating insects.
"Once they evolve to cope with defence mechanisms of a small group of plants, they have no competition from other insects, and it is not straightforward to evolve the same relationship with other plants."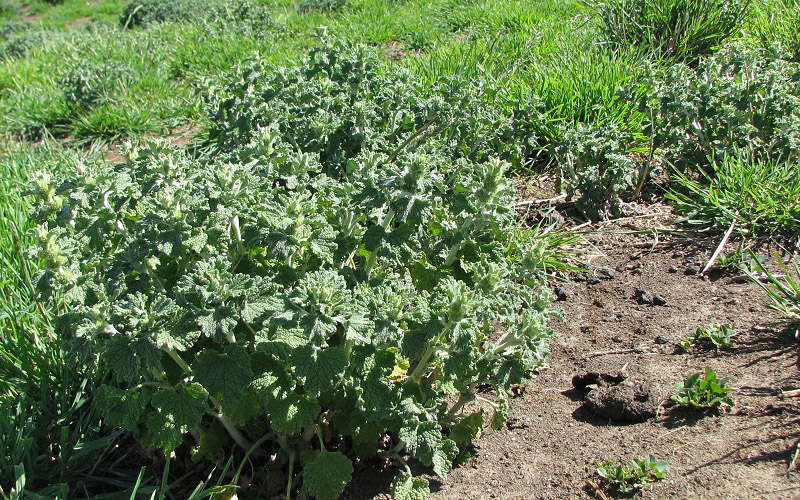 Photos supplied by Keith Pollock
Horehound has been present in this country for over a century but anecdotal evidence suggests it is doubling in area every three years if left unchecked.
Ronny says the weed is well adapted to take advantage of lucerne's winter inactivity and the Horehound's proliferation in recent years can be in-part attributed to the increase in the area planted in lucerne in central and east coast parts of the country.
One group objecting to the introduction of the moths are medical herbalists who value Horehound's medicinal properties, particularly its use in treating respiratory conditions.
While they can import Horehound, they prefer wild populations as it is deemed better quality and it's free.
Ronny stresses that the biocontrol agents won't eradicate Horehound and they believe the interests of both parties can be accommodated.
"They maybe sparse and it might be more of an effort to find wild populations but we are not talking about eradication."
Both Derrick and Ronny urge farmers to submit- whether they are for or against the biocontrol programme- and say if they are interested they should consider putting together either an individual or collective submission before the closing date of July 11th.
Have your say
To make a submission go to: https://www.epa.govt.nz/public-consultations/open-consultations/proposal-to-combat-horehound/