Monday, 14 September 2015
The Declaration of Result provided by the independent Returning Officer, Warwick Lampp, of Electionz.com said 84.56 per cent of farmers on a one farmer, one vote basis had voted in favour of the sheepmeat levy with support of 86.04 per cent on a weighted stock unit basis.
There was over 84.66 per cent support for the beef levy on a one farmer, one vote and 84.60 per cent on a weighted stock unit basis.
The result declaration for Beef + Lamb New Zealand Ltd's Commodity Levies Act Referendum provided by Electionz.com is: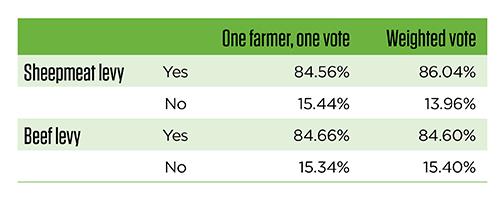 The voting return percentage was 38.03% (6,448 participants), representing the following:
% of National Sheep Numbers - 58%
% of National Beef Cattle Numbers - 47%
% of National Dairy Cattle Numbers - 15%
Beef + Lamb New Zealand chairman, James Parsons said the referendum was a great endorsement for the organisation and its work over the last six years.
The participation rate was similar to the last referendum in 2009, Parsons said. However the result is in stark contrast to the 2009 referendum where the sheepmeat levy and the beef levy were narrowly passed.
"Since 2009 the board and staff have worked incredibly hard to reconnect with farmers. Consequently Beef + Lamb New Zealand has become much more farmer facing, partnered far better with like-minded organisations and been a stronger voice for farmers in key areas.
"Naturally we are delighted with the strong endorsement from farmers, however the challenges the sector faces are as great as ever. Feedback from farmers who attended the 53 referendum meetings around the country was that they want and need a farmer organisation now as much as ever. Consequently we need to work just as hard for the next six years, but we will do so with the knowledge farmers firmly support and value their farmer organisation. In essence Beef + Lamb New Zealand is just an extension of farmers.
"The result is a strong indication that our work over the past six years has been on the right track, and that we should continue to evolve and improve it over time. Without question Beef + Lamb New Zealand in another six years' time will be vastly different to what we see today. Farmers can expect a lot more initiatives already in the pipeline to surface in the next couple of years."
Parsons said he had informed the Minister for Primary Industries, Hon Nathan Guy of the result and the organisation would be applying to the minister's office for new levy orders that would run through to 2022.
For more information please contact Beef + Lamb New Zealand chairman, James Parsons on 021 206 3208 or Beef + Lamb New Zealand communications manager, Jan Keir-Smith on 0272 717 593.