Thursday, 8 December 2016
Objectives
Extension 350 is about raising the on-farm performance of 350 Northland farms to achieve increased profitability by improving farm systems. The project aims to have 350 farms participating by year four.
The specific objectives of the initiative are to:
Raise the on-farm performance to achieve increased profitability of 350 Northland pastoral farms through improved farm systems. This will be achieved by using the showcase of 50 farms changing from average performance to the top 20th percentile for the region within 5 years.
Develop 50 top quartile farmers as mentors for the Target Farmers, to accelerate on-farm change.
Improve farmer networks in areas all around Northland, some of which are very isolated.
How it works
The initiative is modelled on a number of geographical clusters of five farms in a three way relationship triangle. Advice and direction is provided to the Target Farmer by an expert consultant and this relationship is supported and encouraged by a Mentor Farmer.
The result will be positive on-farm change by each Target Farmer who is then expected to interact and influence a surrounding group of Associated Farmers, further spreading the benefits throughout the farming community. 
This diagram is a visual representation of one cluster: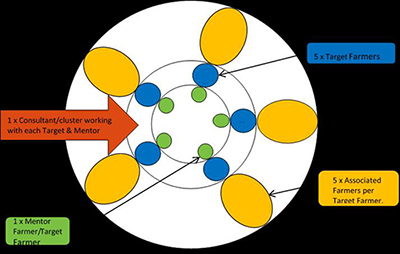 As the name suggests, the goal is to reach 350 farmers over its duration. 
There are three clusters – two dairy and one sheep/beef – of farmers across Northland in year 1 and this will grow to a total of 10 clusters over 3 years - 3 sheep/beef and 7 dairy. Each cluster is supported by farm consultants and other service providers.
The programme is a priority within the Tai Tokerau Northland Economic Action Plan, launched earlier this year, and is supported by B+LNZ, DairyNZ and the Ministry for Primary Industries and Northland Inc.
We are very excited about this initiative and are looking to engage people whom are eager to move their business forward. If you would like to be involved, drop me a line. 
Alison Whiteford is Beef + Lamb New Zealand's Northern North Island extension manager.