Wednesday, 8 March 2017
Demand for QEII National Trust support outstrips the organisation's resources, trust Chief Executive Mike Jebson told the 65 farmers at last month's Beef + Lamb New Zealand (B+LNZ) Environment Conference in Wellington.
The trust works with landowners to protect special areas of private land through tailored covenants. It is an independent statutory organisation which acts as the perpetual trustee to ensure the covenant remains protected forever. The driving force behind the trust's establishment was farmers themselves.
Sheep/beef farmers account for 47% of covenants
Today, the trust oversees 4300 covenants, which collectively account for 180,000 hectares – or 1% – of New Zealand's private land. Two thirds of the covenants are on primary production land and 47% of all covenants (about 2000) are on sheep and beef properties. The B+LNZ Farm Survey shows about 20% of all sheep and beef farms have one or more covenants protecting important natural areas.
"This year, we'll be approving about 130 new covenants, although, if we had a little bit more funding, we could be doing more covenants, because there's more demand out there from landowners who want to protect stuff than we can afford to help them protect. We also want to be in the position to offer greater assistance for covenant stewardship, once the covenant is registered, to help support the great efforts of our covenanting landowners."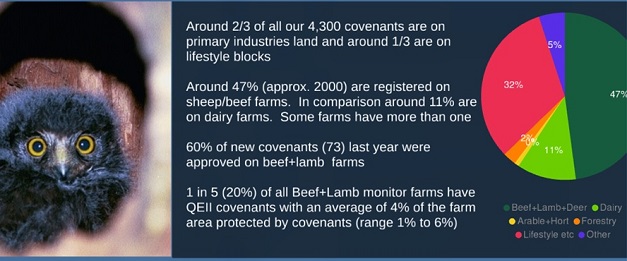 Ask for advice
Jebson says that the supply/demand issue should not discourage farmers from seeking advice from the QEII team, as they can help with advice and guidance. 
He explains there are four national priorities for biodiversity protection, including wetland areas with associated vegetation; remnants of bush, tussock or forest in areas where little original indigenous vegetation remains; and areas that support habitats for rare or endandered species.
How to protect unique bio-diversity on farmland
Understand what you need to protect. Ask the local QEII rep to visit your property and help you. 
Make a plan – preferably one that ties in with your overall farm planning and financial capacity. 
Decide on your management approach – usually a mix of one-off interventions (such as retirement fencing), on-going management (such as weed and pest control) and revegetation work to fill in gaps.
Consider using a covenant – to ensure protection of your investment in land stewardship and to leave a legacy for the next generation.
Visit the QEII National Trust website for more information.
Video
Watch Mike Jebson's presentation at B+LNZ's 2017 Environment Conference