Wednesday, 15 March 2017
During his speech, Mr Guy released a report on the economic evaluation of reticulated drinking water for stock. Read the Ministers press release.
The evaluation of reticulation was funded by Beef + Lamb New Zealand, MPI, MBIE and Te Puni Kōkiri. All up it involved 11 case study farms around the country.
All the farmers who took part thought their investment was a good decision. They found they were better able to cope with drought as the availability of drinking water gave them more flexibility to effectively use all their available pasture. This, in turn, resulted in improved stock numbers and stock performance.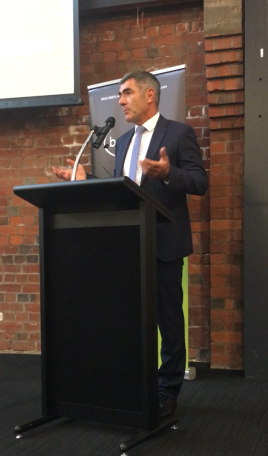 Ministry for Primary Industries, Hon Nathan Guy addresses the B+LNZ Environment Conference [photo Geoff Ridley]
Reticulation has the environmental benefit of reducing pressure on waterways by providing stock with another source of drinking water. The availability of drinking water meant that waterways, wetlands and dams could be fenced off. It also meant farmers could plant riparian strips and protect regenerating bush.
Being able to fence dams has the animal welfare benefit of preventing stock either getting stuck in dams during dry periods or drowning.
Overall the benefits were:
an increase in stock units per hectare
an increased animal productivity
better grazing management
greater pasture production
better environmental outcomes
greater ability to implement farm environment plans
increased drought resistance
And the financial analysis showed:
an average rate of return of 45% over 20 years
an average payback period of 3 years
If you want to read more see the links below.
Phil Journeaux and Erica van Reenen, 2016. Economic evaluation of stock water reticulation on hill country. A report for the Ministry for Primary Industries and Beef + lamb New Zealand.
Economics of stock water on hill country. Information leaflet.