Friday, 1 September 2017
#3: Involving farmers from the start
Farmers Mark and Annie Gemmell own Mokonui Station, which borders the Wharekopae River 4km upstream from the rockslide. The 980ha property includes many creeks that feed into the river and 220ha of native bush. It runs 7500 stock units with a 50/50 mix of sheep and beef.
The family has swum in the river all of their lives, says Mark. "There used to be numerous blue ducks in the 1980s. They're gone now. There are a few brown trout still, but nowhere near the numbers there used to be."
While big cyclone events contribute to the loss of these species from the river, the Gemmells are aware of the role pollution plays in the river's health.
The couple and their son Sam – the third generation to run the farm – were involved in the Rere project from the outset. They have hosted field days, completed nutrient budgets, monitored E coli levels, fenced off the last of the property bordering the river (thanks to a council grant) and developed a farm environment plan.
Awareness is key
Mark says the family now regularly refer to the farm plan to guide how they can lessen environmental risks to the river.
"While no one can put their finger on a single E coli source, there are definite correlations. Often a spike in E coli is related to temperature and rainfall events. Or it can be a heavy stocking rate or feeding out crop.
"Our involvement in this project and developing a farm plan has made us aware of what we need to keep monitoring and look out for to try and improve water quality."
Advice for other farmers
"Get involved and engage. You're better off working with council and learning what you can do, than to think you know the answers and shut yourself off."
Agribusiness and environmental consultant Erica van Reenen agrees. "If farmers get involved at the start of a project, they can help shape its direction. They can ensure solutions are practical for farms in the catchment, while still meeting broader community goals."
Engaging farmers
Erica says it's easiest to start with farmers who want to be involved. "They build credibility, which helps bring those who are uncertain along, over time. The important thing is to let it take as long as it takes – everyone has a different reason for engaging."
The Rere project kicked off with a field day – a familiar and farmer-friendly format that gave people an opportunity to engage with each other, on their own terms.
"Developing a farm environment plan is an important step in understanding where your environmental risks are. And – in the Rere project – if farmers  wanted the additional carrot of access to council funding, they needed to complete the work they'd committed to."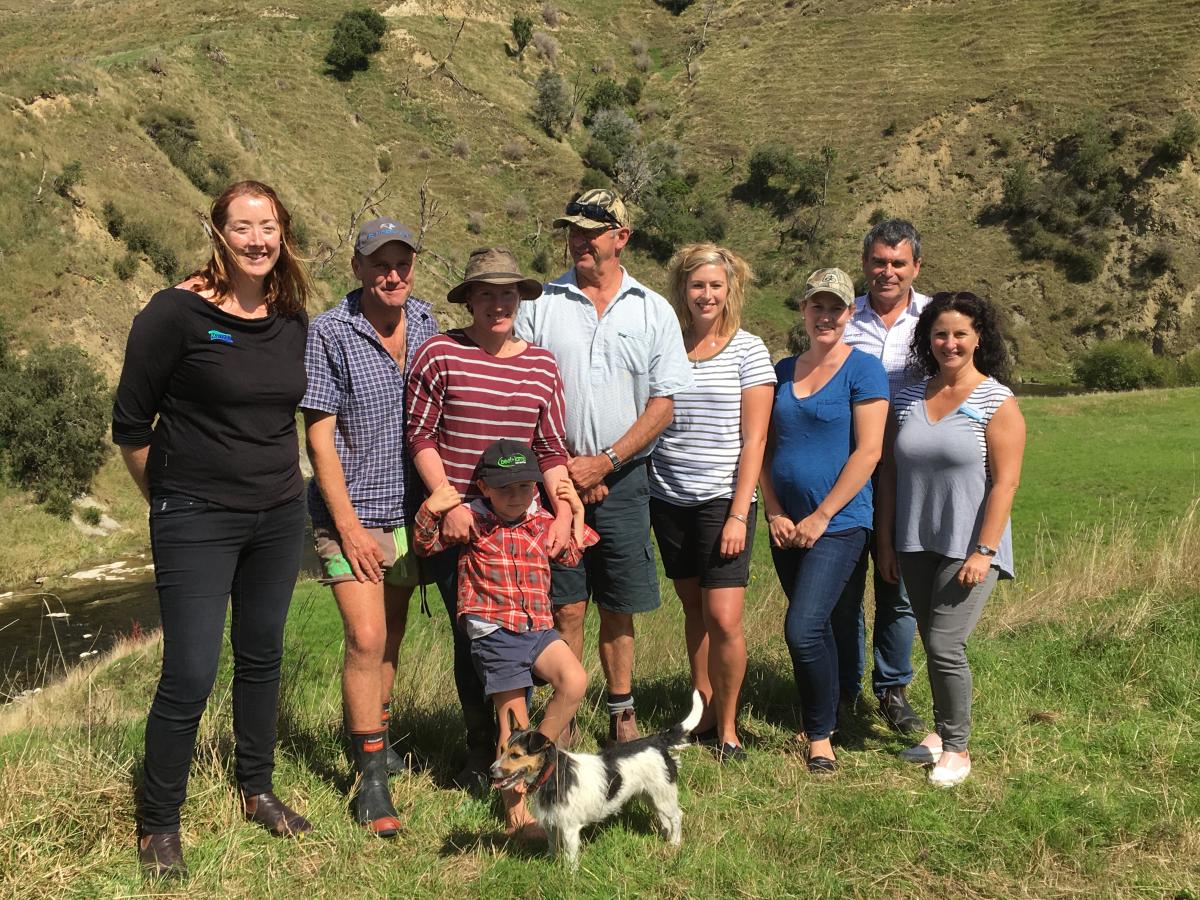 Photo: From left Erica van Reenen (AgFirst), Marcus and Kerry Worsnop with son Robbie (Rere farmers), Mark Gemmell (Mokonui Station), Alice Trevelyan (Gisborne District Council), Deana Cook (Makaretu Farmstead), Mark Harris (Beef + Lamb New Zealand) and Jo Armstrong (Ministry for the Environment).