Friday, 17 June 2016
Did you see the internet article about deconstructed coffee? Apparently a café in Melbourne is offering deconstructed coffee, that is, a beaker of coffee, one of milk and one of hot water so you can mix it to your own taste. We were talking about it in the tea room and I thought the whole point was to go to a café that constructed good coffees. Anne Nelson, our website manager, said that there must be a blog in this. And she was right.
Greater than the sum of its parts
Scientific research is about the deconstruction of a system to understanding how the component parts work. In farming we have lots of component research. We have lots of data and information. What we tend to lack is the knowledge of how to reconstruct the farm system using the new information. We also often don't know whether good looking results from component research will scale up to whole farm systems and hold true.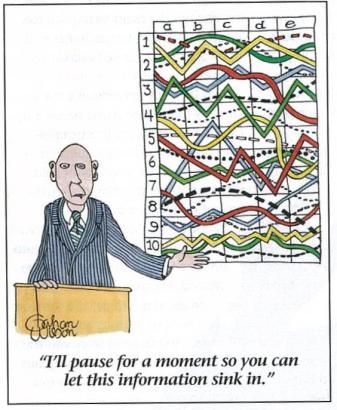 [From the New Zealand Listener, Gahan Wilson]
Paralysis of adoption
There is also a huge amount of 'component' knowledge that has been and continues to be generated from research. The complexity of all the possible interactions of the components results in paralysis of adoption. Something that we try to overcome with our Beef + Lamb New Zealand farming advice and resources.
Over the last year we have been looking at the research that Beef + Lamb New Zealand have been supporting. There was a lot of discussion at the Hill Country Symposium held in Rotorua (April 2016). And we have been talking to researchers about taking the information from component research and building it into farm systems research, and that is how we are reconstructing that coffee?
That is the aim. So watch this space.