Thursday, 24 May 2018
Farmer shaped by early career experience
Thirty-seven years ago, a then young farm worker Rick Powdrell found himself bed ridden for weeks with glandular fever-like symptoms.
"I could barely stand up and needed a month off work. I'd been doing a lot of spraying of lucerne crops with some full-on chemicals and was a little lax with safety precautions, as was everyone back then."
But the penny didn't drop for another few years, after a conversation with a fellow farmer, who'd experienced a near identical sickness – and that farmer had been diagnosed as suffering from spray poisoning.
The realisation was a turning point for Rick and shaped the farmer he would become – one who is happy to trial weevils and flies, open his farm up to scrutiny, and plant thousands of trees for the benefit of both his own property and the greater Kaituna catchment.
Sheep and beef farmers Rick and wife Rose are the third generation of Powdrells to farm 385 hectare Emerald Hills near Te Puke. Their son Matthew and his young family live on a subdivided corner of the property. Both Matthew and sister Emmalee are involved in the property's governance.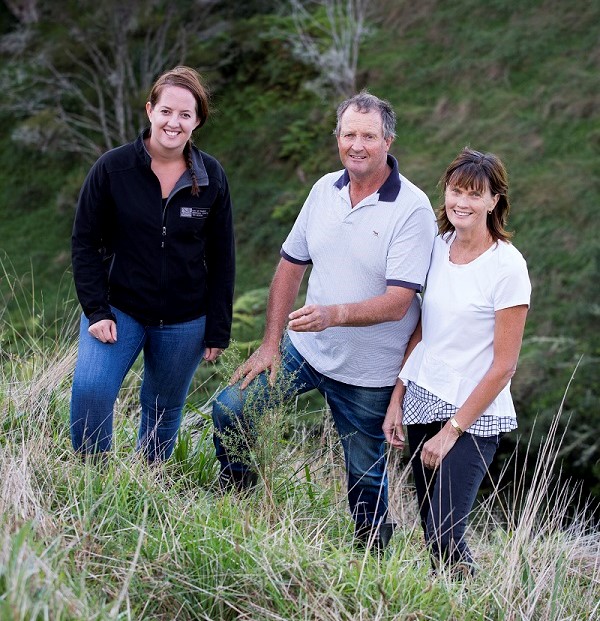 The Bay of Plenty Regional Council has 30 land management officers – including Milly Farquhar (left), pictured with Rick and Rose Powdrell – who work with farmers to achieve good environmental outcomes.
Long history of environmental work
Powdrells have worked on environmental protection works with the Bay of Plenty Regional Council for the past 25 years. Council staff have come and gone, but the relationship has remained constant.
Rick has a long involvement with Federated Farmers and it was through this interest he became aware of the regional council's desire to work with farmers to improve the environment. The couple approached the council in the early 1990s and, since then, Emerald Hills has undergone an environmental make over.
"My father and grandfather farmed in a different time and were focused on development and production. But they inadvertently did some great things on the property, such as fencing off steep gullies and gorges. They did it because they kept losing cattle, but the environment also benefited from having the heavy stock removed from vulnerable slopes."
The first thing the regional council did was help Powdrells formulate a soil and water conservation plan, which saw them fence off the significant waterways – most of which form the property boundaries. Steeper paddocks became sheep only zones. At this time, nine hectares of pinus radiata was planted on retired areas and much land was left to naturally regenerate.
The next four years will focus on fencing off gullies, wetlands and now-redundant dams once used for stock water.
Proudest achievement
Ask Rick what his proudest environmental action is and you might be surprised. It's the success of two bugs – a gall fly and receptacle weevil – in controlling nodding thistles. Rick and Rose have worked with the council on biological controls for more than 30 years – and seen many a weevil fail. But these two bugs are doing the job.
"Any natural organism that can assist in producing a better environmental outcome than the spray alternative is a win for me."
B+LNZ Environment Focus Farm spreads message
For the past three years, Emerald Hills has been one of two Beef + Lamb New Zealand (B+LNZ) Environment Focus Farms in the central North Island. The goal of the three-year project was to highlight on-farm environmental work being done, how to go about it and how farmers can involve local bodies.
One of the most significant actions to come out of the project was the installation of troughs across a large portion of the farm, which had previously relied on spring-fed dams. Drilling for water and installing troughs is an expensive exercise, but takes stock away from natural waterways, where they muddy the edges and dirty the water to the detriment of downstream ecosystems.
Other work included planting thousands of poplar poles and manuka seedlings, and installing detention dams to alleviate washing out in gullies.
Regional Council approach
Bay of Plenty Regional Council Kaituna catchments manager Pim De Monchy explains the council position: "The council owns half of the Port of Tauranga, which puts it in a position to offer incentives to landowners. The council also made a strong commitment in 1989, when it was established, to do things with incentives and non-regulatory methods."
To that end, the council has 30 land management officers, who work with farmers to negotiate multi-year agreements – usually five years – where landowners and officers work together to achieve the desired outcomes.
Pim says the B+LNZ Environment Focus Farm project was incredibly valuable for the community.
It prompted the establishment of a catchment hub, involving up to 20 farmers in Powdrells' vicinity. The group's first task will be to identify the key environmental issues in their area, which is likely to be sediment into waterways.
B+LNZ extension manager Maria Shanks says catchment groups are springing up around the country, driven by farmers wanting to protect waterways and improve water quality.
"Many, like Rick and Rose, have been doing work on farm over several years, with the support of their regional councils and other organisations. They are prepared to share their environmental story in the hope it will inspire others to realise the perceived hurdles can be overcome."
Note: Story republished in The Weekend Sun