Wednesday, 7 June 2017
The test involves mating a mix of New Zealand and international bulls (using AI) over about 2200 commercially-farmed cows and heifers each season. All progeny are tracked, with steers and cull heifers assessed on their carcase traits and replacement heifers tracked for their maternal characteristics.
Yearling weights highlight variability 
B+LNZ Genetics General Manager Graham Alder says yearling weight analysis (see the bar graph) shows that not all bulls are equal.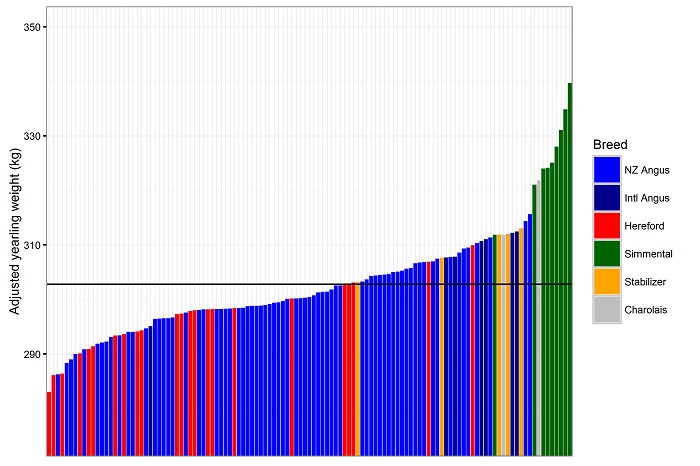 "As you would expect, the terminally-sired calves are dominating a weight-based analysis at this point of the trial. Over the next 12 months, we will begin to see processing data on the progeny – adding a critical layer of information."
The green bars indicate the Simmental bulls, which dominated both the weaning and yearling weight measurements – being 6kg and 20kg heavier, on average, at weaning time and as yearlings, respectively. 
Estimated breeding values work
Mr Alder says the message that is coming through loud and clear is that estimated breeding values work. "We are seeing a high degree of correlation between what the bulls' EBVs predict and how the calves are actually performing (see line graph).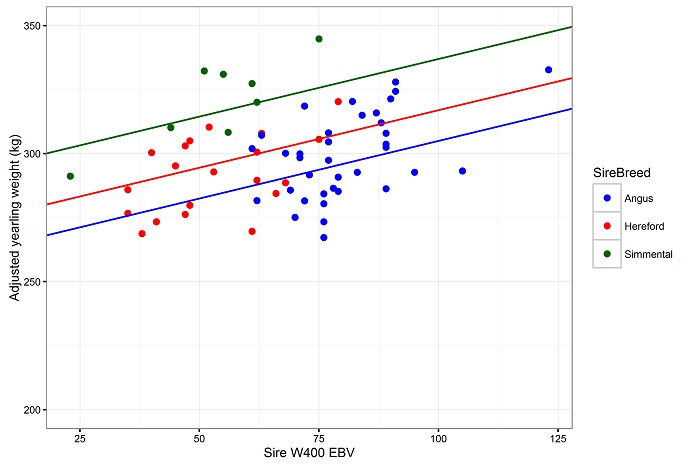 "Bearing in mind, that the test is being carried out under large-scale commercial conditions. These results give us the best indication yet that the benefits of using benchmarked genetics are being captured on New Zealand sheep and beef farms."
Simmental dominates early weight-based measures
Simmental New Zealand – along with Angus New Zealand, Focus Genetics and the New Zealand Hereford Association – supports the progeny test (via a mix of financial and in-kind support).
President Sarah Hammond is looking forward to seeing how the Simmental progeny perform in the carcase trait measures. "Of interest will be how they compare on meat quality against the British breeds."
But she points out that Simmental's primary role is as a terminal sire, complementing the likes of Angus and Hereford cattle and enhancing what traditional breeds have to offer. 
Mrs Hammond says the trial is throwing up compelling evidence that farmers should seriously consider using a terminal sire. 
"Commercial farmers who choose to embrace the outcomes of this trial will be able to increase their profit margin and reduce their exposure to financial risk at the same time. 
"The selection of bulls with sound structure and strong EBVs in desired traits, will significantly drive productivity over selecting on eye appeal alone."