Running a successful field day, workshop, discussion group or other event requires planning and attention to detail if the event is to run smoothly, deliver on the intended outcomes, and be worthwhile for the participants.

In this section we'll look at four key stages to running a successful event:
Planning

Preparation

Implementation

Follow-up.
Just as having a plan for the overall extension programme is critical to its success, the same applies to individual events within that programme.
You will need to plan for:
The audience – who is your target audience? Is it farm owners, farm or stock managers, shepherds, or a whole farm team? Is the event aimed at people with a fair amount of experience already, people with specialist knowledge, or people relatively new to the industry? How many people do you expect will attend?
The purpose – what are the objectives of your event? How does the event fit into the wider extension programme?
The follow-up – what do you want to have happen after the event? Do you want people that attend to commit to coming to another session? Or do you want farmers to think about how they can apply things they've learned at the event on their own farm? Or perhaps your aim is to get farmers to implement a new practice on a trial basis? What kind of support, and from whom, will they need to do that?
Topic
Your overall extension programme plan will likely have set the topic for your event. Make sure you keep the desired outcomes clear in your mind as you're planning the event, as this will help you focus on key information and avoid the trap of trying to cover everything on a topic at once. The KASA (knowledge, attitudes, skills, aspirations) framework can help with this process.
Consider also if there is an opportunity to co-host an event with another organisation. It may be appropriate to partner up with a research group like AgResearch, NIWA, Landcare Research, one of the banks, or one of the universities.
Type of event
The type of event that is most appropriate is defined by the audience and the intended outcomes. As you're designing the overall extension programme that any event sits within, you will have given some thought to selecting appropriate extension activities. Here we'll remind you of a few key options:
Field days are a good event for introducing new practices or technologies – they are mostly used to raise awareness with a large number of people at once.
Workshops are a more hands-on option, providing participants with a structured, facilitated session during which they can consider a particular topic in more detail, practise new skills, and think and discuss how they might apply these learnings back on their own farm.
Farmer-to-farmer discussion groups are a more self-directed option, offering farmers an informal platform to have conversations with other farmers about topics that are of immediate interest to them.
And, of course, these are just a few of the many types of extension activities that you might want to plan as an event. You can see a wider selection of options here.

Timing
The time of the year, day of the week, length of the event and time of day you select for an event will all depend on the audience, type of event, and topic of focus.
Time of the year – depending on the target audience, certain times of the year are more or less suitable for holding extension events. Avoid the obvious busy times for farmers, like lambing and calving. Consider both any potential clashes with other popular events (e.g. Mystery Creek Field Day), and whether you can 'piggy-back' off another planned event that your audience may also be interested in.
Day of the week – think about what might suit your audience best. Is it the beginning, middle or end of the week? You will also need to factor in the availability of any facilitators or presenters who will be involved. If you want to poll a group to find out which from a range of dates is going to suit most people best, consider using a tool like Doodle.
Length of the event – it can be quite a challenge for farmers to take a whole day away from their farm; a tightly-focused, good-quality, half-day event can be more achievable and appealing than a full-day one.
Time of day – again, knowing your target audience well can help you decide on what time of day is going to work best for your event. Consider both what else they may have on and how far they may need to travel to the event when deciding on a time.
Location
Farmers like to be outdoors. Even a workshop can be held on-farm if suitable facilities are available (e.g. a hay shed where tables could be set up). Look for suitable locations that are within 30-40 minutes drive of the majority of expected participants.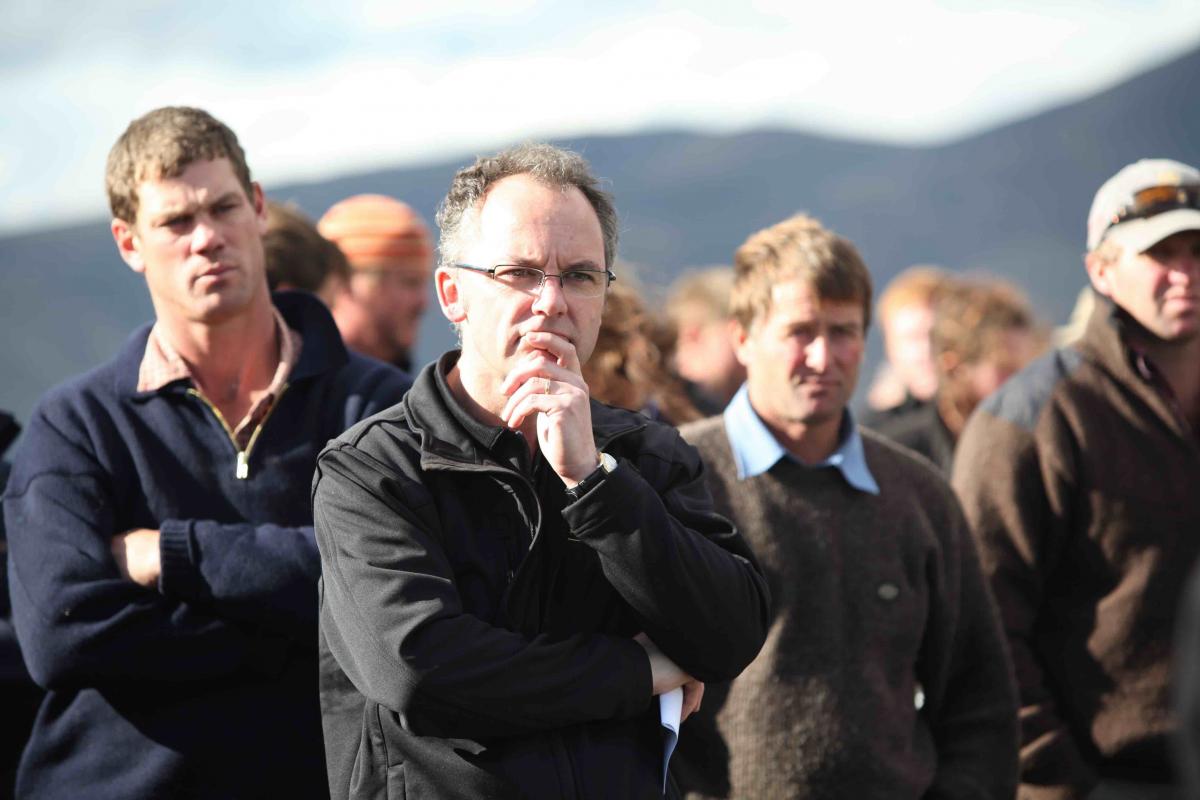 By all means use award-winning properties, or those with an element of special interest. But it can also help to mix things up with 'work in progress' properties – farm teams who are at the start of their journey with a new practice can be just as encouraged by seeing other farms that are only a bit further along in their implementation and still facing challenges and looking for solutions. This is useful for those who find it hard to relate to 'big' jumps such as those demonstrated on award-winning properties.
Look for local venues – community halls, sports clubs, and schools (especially if you need computer access) all offer potential venues, often at low or no cost. Critical, however, is that the venue ensures people will be dry and warm/cool enough, has adequate toilet facilities for both men and women, and (generally) a power and water source.
Breaks and refreshments
Breaks and refreshments built into the event offer a great informal and relaxed opportunity for further conversation between participants, facilitators and presenters.
Often local groups can help with catering as a means of fundraising – a good way to support the local community and engage more people in what you're doing. Make sure, however, that refreshments are arranged and that access is quick and efficient – you don't want to waste precious time having people queue. And, of course, check with participants about any special dietary requirements they may have – vegetarian and dairy or gluten-free options can be included with advance notice to the caterers.
Regardless of refreshments, make sure an event has regular breaks built into it – time for people to stretch, use the bathroom, or check in with a someone at home via a quick phone call.
Presenters and facilitators
Farmers like to learn from other farmers, as well as respected subject matter experts such as vets, agronomists and so on – as shown in the extension model diagram below.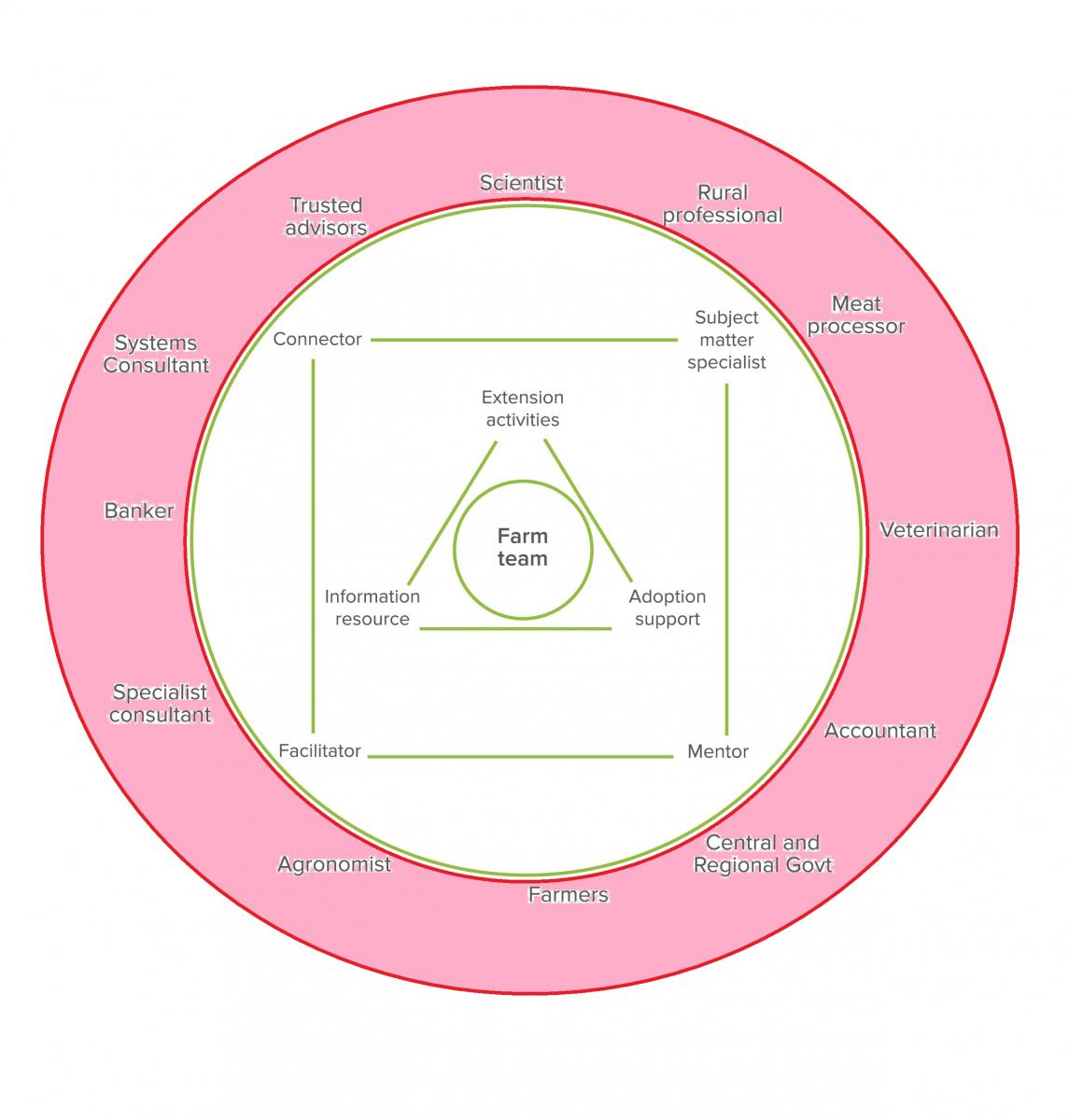 Whoever you ask to facilitate or present, make sure you share the desired outcomes for the event with them, to ensure they stay 'on message'. A few, good quality presentations, that are on topic and relevant, will be the most effective way of supporting your event goals.
SMEs often get carried away by their passion for a topic. They're also prone to use of language and concepts your audience may not understand. Pre-briefing is essential to help them avoid falling into these traps.
If you have a speaker who is not used to presenting to a group, they may need your help preparing or practising their presentation in advance.
Make sure you're clear with presenters how long they will have to speak, and the time available for questions afterwards. Also, make sure you keep them to time – there's nothing worse than having a speaker run way over time and then having to rush through other planned activities because of it.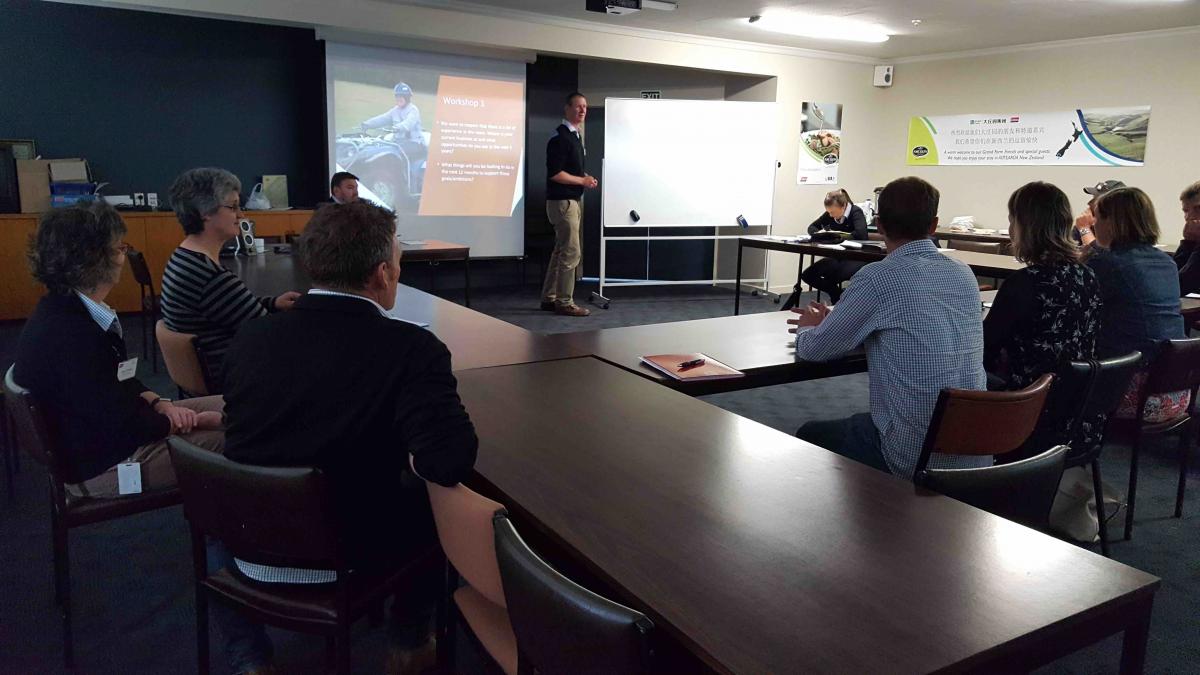 Communications
When thinking about how to communicate the details of your upcoming event with prospective participants, it can help to use as many different channels as possible, such as:
local newsletters or newspapers
the Beef + Lamb NZ website – Events section [Contact your local Beef + Lamb NZ Extension Officer to get an event added]
relevant Facebook groups or Twitter
rural delivery leaflet drops
relevant farming associations' newsletters or e-newsletters
posters in local venues (pubs, schools, supermarkets).
With any communications, make sure you include the contact details of someone who can respond promptly to any enquiries about the event.
Preparation is the key to success; it's a time investment that is always well spent. Below are some tips to help you prepare successfully for your event.
Prepare a run sheet
A run sheet is a planned list of the actions that will make up a session. They generally include timings and links to any resources that will be used. Here is an example: Runsheet for small group day/farm tour.
Even if things have to change a bit on the day, putting the time into developing a run sheet in advance really helps you make sure your event is well-planned.
Pre-work
It is a good idea to 'prepare' (warm up) your audience for the event. At a minimum, prime them with a relevant, provocative question in the advertising material. Better still, depending on the nature of the event, ask them to do a brief reflective task (e.g. write down their lamb weaning weight goal for the season) or other preparatory action (e.g. bring a sample of their crop or soil to the event).
Evaluation
Plan in advance how you will evaluate the event. Feedback on what worked well and what could be improved is invaluable when planning for your future events.
What you're going to evaluate should be linked to the outcomes you're looking to achieve from the event.
We'll talk more about how to do this in Section 7 of these guidelines.
Is a dry run worthwhile?
A dry run can help you check and confirm that the venue will work for the event.
Who is responsible for unlocking and locking the venue?
Is the lighting, heating or ventilation going to work?
Have you got the necessary access to power points and extension cords, as needed, for any equipment?
Will everyone be able to see and hear the facilitators and presenters?
Is there sufficient seating?
If you need tables, how will they be set out?
Where will refreshments be available?
What's the parking like?
Where are the bathrooms?
What are the emergency evacuation procedures?
If you're going to be outside, consider:
Does the chosen property show the features you want the group to see?
What are your poor weather contingency plans?
Will everyone be able to hear? (A PA system is advisable, even if working indoors.)
Would a map be helpful if the group will be moving around to different locations on the farm?
How long will it take to get from A to B?
Health and safety
Make sure you carry out a risk assessment with the owners of any properties your event will be on.
Identify and agree on how to isolate or minimise any hazards.
Talk through things like the best place to meet at the start of the event, parking, and how to move safely around the farm while not disrupting stock or damaging the land.
Handouts, worksheets and other resources
Handouts and worksheets are a useful take-home resource for people at the end of the event.
Keep them relevant, short, and written in language your audience will relate to.
Visuals are good – maps, diagrams, photos.
Think about other resources you may need – flipchart paper, pens, folders, Post-it® notes.
A printed agenda handout can be useful – it lets everyone know what's planned and when breaks will be. It can also be a useful place to publicise details of any other organisations or sponsors who are involved.
If you are going to collect feedback from participants via a written survey during the event, have copies ready to be distributed.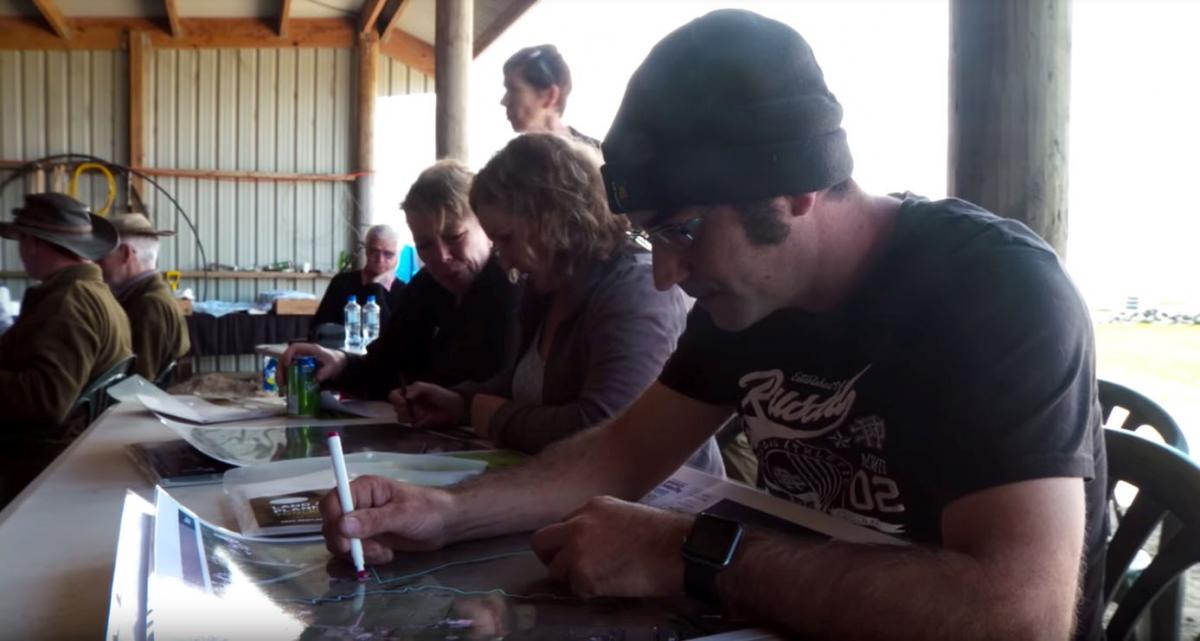 Technology – what's needed?
Plan and book equipment as needed: PA system, data projector and screen, laptops and so on.
Make sure you have the right cables or adaptors – you may need to check with presenters if they are bringing their own laptops on what they will require.
Don't forget to check the location of power points, and consider whether extension cords will be needed.
Make sure all technology is fully charged in advance (and that you have spare batteries, if relevant).
On the day, sound planning and preparation will go a long way towards ensuring a successful event. Here are a few more tips for making sure your event goes according to plan.
Be well-organised and go into the event feeling calm – arrive in good time to get things set up as you want them, and be prepared for some people to turn up early (because they often do).
Set up an efficient registration process so you record the name of everyone attending at the very least; if appropriate, obtain other details, including email addresses.
Make sure everyone feels welcome, especially newcomers. Providing tea and coffee before an event is a good way to encourage a relaxed atmosphere and get people talking.
Name badges are useful (sticky labels and a marker pen will suffice). Use first names, and make sure they readable from a distance!
Look after any visiting speakers; ensure they are all set to go with their presentations and any handouts as needed.
Start more-or-less on time.
Check that people can see and hear what is happening at the start – if they can't, stop and fix the problem.
Make the objectives of the day clear at the outset – this will help keep the group focused.
Keep key messages simple and consistent.
Keep introductions for speakers brief, but make sure you establish their credibility to be talking on the topic so the audience will listen to and respect their presentations.
It may help to prime a few people to ask questions; this can encourage discussion. But make sure questions stay on topic – park any sideline issues raised, and say you'll come back to those if there is time at the end, or after the event if needed.
Make sure any discussion is effectively facilitated – maintain a good-humoured atmosphere, but don't let anyone dominate the discussion.
Encourage people to talk about both good and bad experiences. Challenge people to justify why they do what they do – in a diplomatic way!
Thank facilitators and presenters, as well as any property owners involved.
Summarise key points at the end of discussions, or at the end of the event.
Before the attendees leave, try to challenge them with a call to action – how are they going to apply what they've learnt from the event back on farm/into their business?
Take a moment to get some feedback on the day. This could be a short facilitated discussion, or a quick survey that participants fill out before leaving. Also take some time to outline any follow-up evaluation actions you will be taking (if relevant).
Finish on or before time.
To get the most out of the event, make sure you follow up.
Consider what adoption support you will provide and how you will connect participants into it.
Provide contacts if participants want more information.
Include details of how to access further resources.
Think about opportunities for follow-up events – was there a topic that people seemed particularly interested in? Or an issue that would justify a more in-depth event?
Complete any follow-up evaluation you have planned.