A key objective of the Red Meat Sector Strategy is to achieve sustainable productivity improvements in the red meat sector that lead to increased farm profits.
One key way to do this is through effective extension programmes and activities – engaging farm teams to grow profitability to do the things they want to do.
Effective extension programmes and activities are about:
helping farm teams gain the knowledge and skills they need to identify possible changes to achieve improved economic, social and environmental outcomes
giving farm teams the confidence in a new practice so they feel able to and want to change
providing adequate adoption support so that the farm team is able to effectively implement any desired changes.
Extension activities are many and varied, and can include:
field days
facilitated workshops
farm visits and tours
farmer-to-farmer discussion groups
idea sharing via social media (e.g. Facebook groups, Twitter)
webinars
one-to-one conversations between farmers and farm consultants.
In this resource we'll explore an extension system model developed specifically for the New Zealand red meat sector, based on international research and tested with farm businesses working together in groups. It will help you learn how to put together an effective extension programme that meets the desired farm team outcomes.
To fully engage farm teams in considering and making practice change, you may need to sell them on the idea of extension in the first place. Remember that some farm teams may not have had any prior experience with extension activities, or they may have had a poor prior experience. They will want to know "What's in it for me?" before they are prepared to invest time and resources into the programme.
Benefits to the farm team
Farm teams with access to effective extension activities:
gain connections to other farm teams, building relationships that can be mutually beneficial
have the chance to 'bounce' ideas off and get advice from other farm teams who know what the job is like, how the sector works, and what the realities of the local environment are
get the opportunity to work with people that will listen to them
develop a better understanding of the issues and opportunities that affect the farming sector or their region specifically
get access to credible specialist information, advice and support that is customised to their farm business
experience how to better use the resources available to them
minimise the risks of change by talking with others who have tried or tested the practice change already
get support to properly implement practice changes that will lead to better profits for their farm business
Benefits to the sector
An effective extension programme can provide the following benefits to the sector:
more rapid understanding of benefits coming from changed practice
a higher level of willingness throughout the sector to change
a greater proportion of the target group changing their practice to achieve better outcomes
a faster rate of adoption and practice change
higher levels of successful implementation
increased credibility for everyone involved
The red meat sector has developed an extension system model that has the farm team at its centre, and incorporates the four components of effective extension programmes:
Recognition of different roles in the extension system
Well-developed information resources
Effectively facilitated extension activities
Adoption support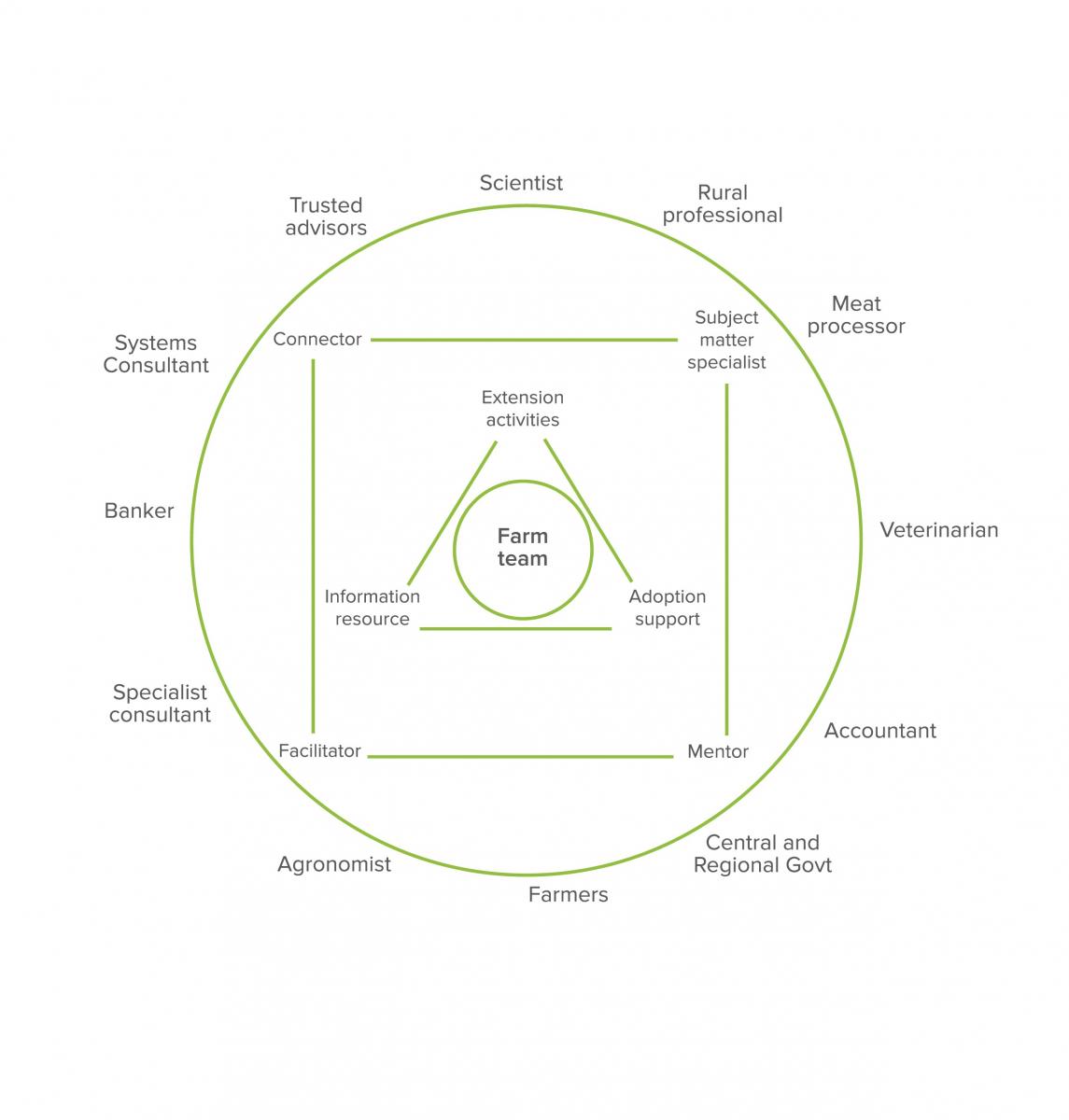 Roles within the Extension Model
There are four roles that are critical to the success of our extension system model: connector, facilitator, subject matter expert and mentor.
While it may be that the same person can take on several of these roles within an extension programme, the roles do each have a discrete set of responsibilities. Likewise, the skills and knowledge required to fill each of the roles is different. Let's take a look at each role in a bit more detail.
Connector
The connector is the role that initiates the extension process with the farm team. Their job is to bring individual farm teams together and to identify the common purpose for an extension group – what the shared issue or opportunity that they want to address is.
The connector may also:
help identify the most appropriate subject matter expert to support the group or have an individual farmer address the issue/opportunity
work with a facilitator to develop a programme for a group
stay with the group over time (or leave the group once it is established).
Facilitator
The facilitator's job is mainly planning, organising, communicating and managing relationships within farmer groups. The facilitator plays a critical role in helping a farmer group to form and work effectively together, and to oversee a programme of extension activities and identify the topics to focus on (for the group or an individual).
The facilitator can also play an integral role in adoption support, by identifying what support farm teams need to make practice change.
The skills and knowledge required to be an effective facilitator include the ability to:
ask the right questions to help farm teams articulate the issues that are affecting performance, or the factors that would lead to successful outcomes
include all members of the farm team, when they are present
judge the appropriate level of information provision for the meeting format
gauge farm teams' existing levels of knowledge
select technical experts with good communication skills who can contribute effectively to the process
react appropriately to the way in which discussions are developing and adjust the format and content of meetings accordingly
define objectives for meetings and ensure they are addressed.
The facilitator may also be a connector, influencer/mentor or subject matter expert – but it's important that they are clear about the requirements of their different roles.
Subject matter expert (SME)
The subject matter expert is, not surprisingly, an expert on the particular subject of interest (e.g. animal health, feed, etc.). The SME's job is to challenge, provoke and/or inform on the subject. To do this effectively, the SME will need a high level of technical competence in that area.
The SME's specialist knowledge can be added into the extension system via a number of pathways – during an extension activity such as a workshop or field day, via extension resources, or through the provision of adoption support.
Mentor
The mentor's job is to be a sounding board for ideas, and to guide famers in decision making. To be successful in this role, a mentor must have credibility and be respected by farm teams.
The mentor is often another local, experienced farmer whose opinion is valued and respected, but could also be a respected rural professional.
Mentors play a particular role in adoption support through helping build farm teams' confidence when making changes on-farm.
Well-developed information resources
Resources will be most useful to farm teams when they:
are written in farmer-friendly language
digest technical concepts and information into practical, 'how to' explanations
link to tools that farm teams can pick up and use to plan and implement changes
include real farm examples to illustrate the benefits of a practice change or the process that can be used to successfully implement that change.
A range of print and digital information resources are available through the Knowledge Hub. You can adopt or adapt any of these resources as needed to suit the extension activities you have planned.
Effectively facilitated extension activities
Extension activities provide farm teams with the opportunity to learn about a topic. There is a broad range of potential activities available to choose from. Which activity is most appropriate will depend on the purpose required:
to demonstrate skills
to develop practical skills
to share information with farm teams
to provide an opportunity for farm teams to ask questions
to gather information from farm teams.
When developing an extension programme you will need to select a combination of activities to meet the intended outcomes of the programme.
Organising and running extension activities or providing information resources will take a farm team only so far down the route of making practice change. To complete the journey, farm teams will need follow-up support to properly implement and monitor changes – we call this 'adoption support'.
Adoption support can be provided by a range of different people – other farmers, extension agents, rural consultants, meat processors, veterinarians, accountants, rural bankers, and so on.
Support can also be provided through a number of different channels:
One-to-one consulting
Rural consultants offer independent, impartial, consistent quality advice to provide New Zealand farmers with profitable business solutions. Providing one-on-one advice means it can be tailored to a specific farm business.
Coaching and mentoring
Coaching and mentoring use the same skills and approach, but coaching is short-term, task-based and mentoring is a longer-term relationship. Both involve a relationship in which a more experienced or more knowledgeable person helps to guide a less experienced or less knowledgeable person.
A coach or mentor could be another farmer, or could be someone like a vet or rural consultant.
Farm peers
Keeping a group of farming peers together and talking throughout the adoption phase helps participants to feel accountable. It can provide an opportunity to share and jointly problem solve through challenges, as well as celebrate successes along the way.
Webinars
A webinar is basically a seminar/presentation that takes place on the internet, allowing participants in different locations to see and hear the presenter, ask questions, and get responses in real time. They can also be recorded for others to watch later, or for participants to listen to again (for example as a podcast).
Webinars can be facilitated by extension agents, processors, scientists or even other farmers. Webinars, like conference calls, are especially useful when participants are geographically spread out, as this makes a face-to-face meeting more challenging.
Additional digital options
Options such as podcasts, videos, and apps can also play a useful role in providing adoption support, through offering follow-up mechanisms.
All four roles – connector, facilitator, subject matter expert and influencer/mentor – can play a role in helping farm teams to successfully implement change.
Connectors help pull the right people together as needed.
Facilitators can help identify what is needed to help farm teams make changes.
Subject matter experts can help farm teams by interpreting and adapting information to be specific to that farm team's situation.
Influencer/mentors play a role in adoption support by building farm teams' confidence when making changes on-farm.
The Extension System Model in practice
Wondering how all this might look in practice? Check out these examples from some of New Zealand's meat processors working with their local farmers.
Alliance Group – working with a young farmers group to lift lamb performance
Alliance Group, as the connectors, set up a young farmers group, made up of five farm businesses located in Southland. Extension activities in the form of regular workshops have been held with the group covering a range of topics, including pasture quality and body condition scoring. An Alliance Technical Manager was the facilitator for these workshops, bringing in subject matter experts to contribute as needed.
The information resource that really helped engage this group was providing killing sheet analysis. This benchmarked each business in terms of their lamb production performance against a larger group of farms and that of a respected high-performing farmer. For some this was a significant reality check and at odds with their perception of how they were doing.
Providing adoption support in the form of locally respected, high-performing farmers to play the role of influencers/mentors enabled some farm businesses to determine how they could increase their lamb production from a practical perspective. For example, one farm business changed the way they managed pastures with support from a neighbouring mentor farmer and farm adviser. Regular pasture measurement, tactical changes to pasture management, pasture testing to identify molybdenum deficiency, and emphasising better all-year-round ewe condition have transformed lamb growth rates and productivity.
ANZCO Foods – helping Otago/Southland farmers improve their soil management
ANZCO Foods used their network of field reps as connectors to identify potential farmers for involvement in a group based in Otago/Southland. Five farm businesses were then brought together by ANZCO staff from the Agribusiness team.Together with these ANZCO facilitators, the Otago/Southland group decided to focus on farm systems, with two key goals: understanding soil management and feed budgeting.
Once established, the first extension activity was a soils workshop with Alec Mackay and Lachie Grant – two subject matter experts. To help prepare farmers for the workshop they were asked to take a photo of a soil profile on their farm, and bring along a soil sample (a shovel of soil from the place they took the picture). At the workshop farmers were introduced to soil types, land management units and other useful information. As a follow-up, farmers were asked to split their farm into Land Management Units on their farm map and complete a description of each unit. This was to form the basis of a map for their farm, which would be a key information resource for the farm teams in the future.
Further workshops were used to help with adoption support, as well as individual follow-up from the facilitators with each farm business.
ANZCO Foods – supporting farmers to tackle feed budgeting
ANZCO Foods ran a key extension activity in the form of a farm tour with one of their farm groups. The idea was to get the group outside of their immediate regions to visit a range of high-performing farm businesses. The topics covered were mixed – reiterating issues highlighted in earlier group meetings so providing some adoption support, as well as introducing some new areas for reflection. The tour was facilitated by ANZCO, and involved farm businesses visited as well as invited subject matter experts. Groups discussed feed planning (crops and pastures) and stock management (emphasising body condition scoring).
Those who attended had follow up 'homework' where they were asked to reflect on key points that had stood out for them, and write down what decisions might need to be made, including key steps and resources that might be needed. This ensured that the trip was not just an extension activity providing some information resources, but also helped participants identify any next steps for their business. ANZCO could then follow this up with further adoption support through later workshops to help farm businesses with areas they identified they wanted to work on.
At the end of the trip, one participant suggested feed budgeting would be a great topic to follow on for a further extension activity as a workshop, but highlighted the need for a session on this that included the chance to work on computers. Some extra laptops were sourced for this workshop so that each workshop participant could follow along on their own computer. One of the biggest successes of the feed budgeting workshop turned out to be exactly that: having the group be able to play around on the computers in the feed budget programme with their own figures and information that was relevant to their property. Having the computers to work on engaged the group a lot more. This highlights the adoption support processes that are needed alongside extension activities and information.
Silver Fern Farms – extending farmers' understanding of on-farm management practices and the effects of beef eating quality
A key focus for Silver Fern Farms has been extending farmers' understanding of on-farm management practices and the effects on beef eating quality. To start their extension project, Silver Fern Farms played the connector role by approaching six Prime Beef pilot farmers to work with. These farmers were provided with in-depth information on kill sheet data, in light of eating quality, to determine some of the critical factors influencing the meat quality they had produced. The pilot farmers were also selected as they had a farm system that was set up for winter finishing on fodder-beet. Learnings from their experiences with this system could subsequently be extended to other Prime Beef farmers.
Silver Fern Farms then involved subject matter experts in the form of researchers from Texas Tech University, Abacus Bio's genetics expertise, and others so that, together with the pilot farmers, they could develop a key information resource: a farmer-focused beef eating quality field guide. An aim was to produce information that was practical and useable on-farm, but linked to the research on beef eating quality. A brief overview of the project, from a farm systems perspective, is provided by pilot farmer Ceri Lewis of Mt Linton Station: www.youtube.com/watch?v=Tquqj-H-Gac
Silver Fern Farms then moved on to the next stage of their extension programme – getting the information resource out to suppliers. Extension activities have been focused on workshops and discussion groups, large and small, across New Zealand. Silver Fern Farms' agribusiness technical support team members were the facilitators for these workshops. They are supported by information resources, like the video and field guide, as well as technical adoption support from the company to help farmers implement changes in their business. Some 500 farmers have been involved in these workshops and discussion groups.
Silver Fern Farms also involved livestock representatives through a train-the-trainer extension learning process, which helped target extension activities to those who see an opportunity to modify their farm systems to better fit to the eating quality expectations of consumers. Additionally it has helped these key knowledge-brokers to play the influencer/mentor role effectively, allowing them to provide adoption support to farmers so they can improve beef eating quality through making practice changes.