Guest speaker: Dan Steele 
Gaining knowledge and value for you and your property Dan Steele is a conservationist, father, farmer, tourism operator, restauranteur, and generally passionate kiwi.
He owns and lives on Blue Duck Station with his wife Sandy and children Blue (11), Snow (7) and 4-year-old twin boys Forest and River.
Sitting on the banks of the Whanganui and Retaruke Rivers, and surrounded by Whanganui National Park, Blue Duck Station is an outdoor enthusiast's playground.
The station has one of the highest concentrations of blue ducks and kiwis in New Zealand and there's wētās, native bats and fish, too.
Dan and Sandy work passionately with their team to conserve the endangered blue duck and improve the health of native bush and rivers, while educating visitors on the area's history.
Naturally, a place like Blue Duck Station has plenty of stories to be told, so join us on Thursday 7 July.
Note: this dinner follows the B+LNZ Progressive Ag Conference 2022 in Gore from 12.30–6.15pm at the Croydon Lodge Hotel.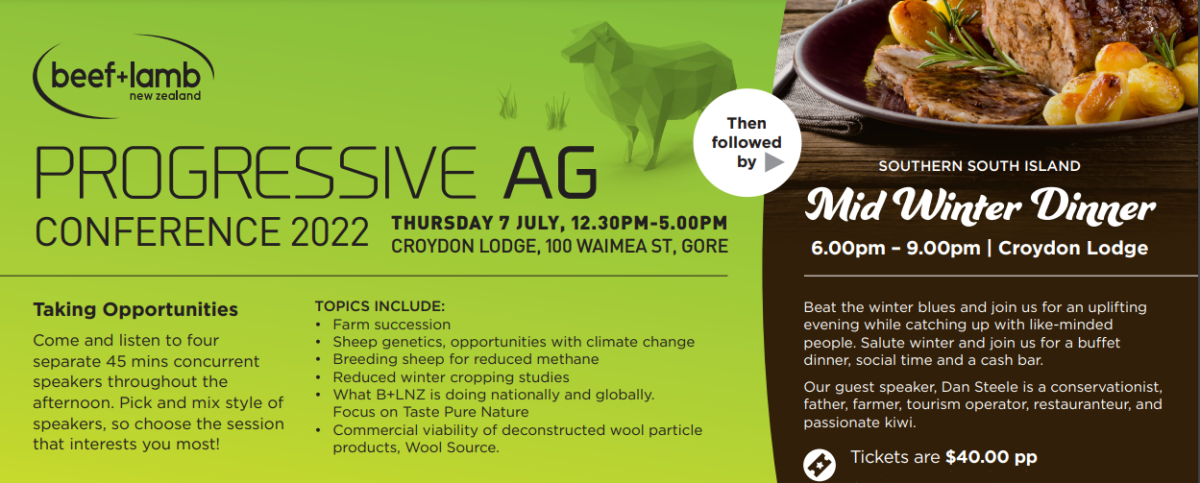 Tickets
Tickets cost $40 per person. 
Please email Theresa.laws@beeflambnz.com for any dietary requirements.
COVID-19
This event is operating under an orange traffic light. If you have cold or flu symptoms, are a household contact of a positive case or are awaiting the results from a COVID-19 test, please stay at home.