Positive change for your farm, family and community, starts with you.
Influence is hard to come by in farming. We take prices, bear the weather and shoulder new regulations. But just working harder to fight every fire is the road to frustration, disappointment and burnout.  With so much changing so fast, we invite you to pause, reflect on your mindset and values and decide what meaningful, positive action in your life, business and community might look like.
Designed for farmers and presented by clinical psychologist Dr Nigel George of Umbrella Wellbeing and AWDT founder and farmer Lindy Nelson, this two-part workshop runs across August 12 and August 19 (7–8.30pm).
It is open to individuals or farming teams in the sheep, beef and dairy sectors.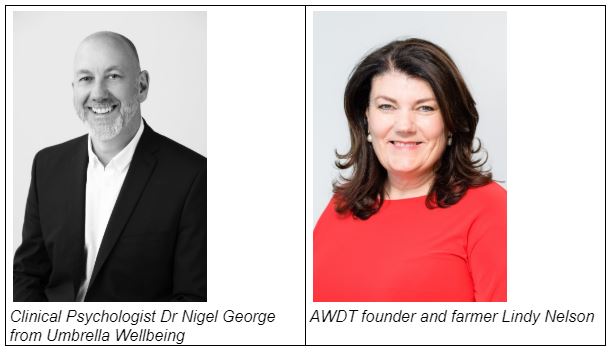 Practical psychology – designed for farmers, by farmers
The focus is on making the theory relevant for farmers – drawing on real-life farming examples, farmer-to-farmer breakout sessions and actionable next-steps. 
Nigel and Lindy will cover two main topics split across two online workshop sessions:
Cutting through the noise – learn how to respond to pressures, like the weather, regulation or market changes, by understanding what's actually important to you and your family, and what's just noise.
Taking action – decide on tangible changes you can make in your farming business, community or industry that match your values and make a difference.
The workshop is brought to you by Beef + Lamb New Zealand and the Agri-Women's Development Trust with support from Farmstrong and Ravensdown.
Sponsors
A special thanks to our supporting partners Farmstrong and Ravensdown.

Registration
To get the most out of this workshop, please register to attend both session on the 12 and 19 August below. 
7pm–8.30pm, Wednesday 12 

August: Cutting through the noise
7pm–8.30pm, Wednesday 19 August: Taking Action