Event category
Talk/Seminar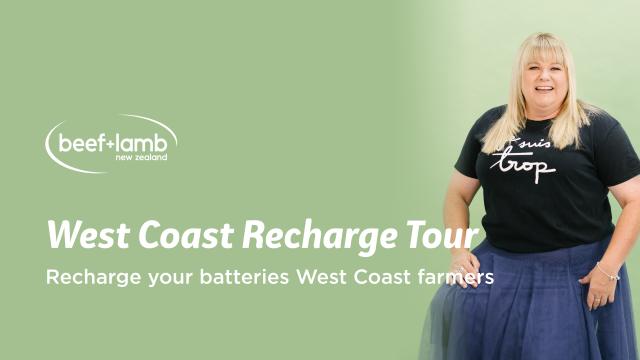 It's a big West Coast welcome home to Julia Jones, keynote speaker for the West Coast Recharge Tour. Join us at your local to connect and take a well-deserved break off farm.
Inspirational with a cracking sense of humour Julia Jones from 'Make it happen NZ' will give insights into industry, navigating challenging times and inspire new thinking and an excitement for the future.
Speaker: Julia Jones – 'Make it happen NZ'
Never really living in the moment but always being excited about the future is what drives Julia Jones. Change is inevitable and she works hard to help others have confidence in navigating an uncertain future.  
Her passion is translating global macro trends and their impact on Agri sector prosperity.  This includes consumer market and sustainable finance trends.  She guides businesses through strategy change and stakeholder connection.   
Although blessed with many highlights Julia attributes the most impactful growth to her lowlights.  
Highlights include: 
Chairing Meat the Need, a food security charity - Current 
Winning the emerging leader scholarship to attend Stanford University, 2017
 working in Russia, 2014
AWDT Escalator Governance Program, 2011
Completing the Harvard Agri Seminar in China, 2010.
Nibbles from 6.30pm
Supper provided following guest speaker.
Supported by
Main sponsor: B+LNZ
Supported by: Rural Support Trust, Landcare Trust NZ, MPI on Farm Support, DairyNZ and West Coast Farm Plan Project
Dates and locations
| Location | Venue | Date | Time | Register |
| --- | --- | --- | --- | --- |
| Hokitika | Woodstock Hotel | 25th September | 6:30pm | Register Now |
| Harihari | Harihari Hotel | 26th September | 6:30pm | Register Now |
| Karamea | Karamea Village Hotel | 27th September | 6:30pm | Register Now |
| Ikamatua | Ikamatua Hotel | 28th September | 6:30pm | Register Now |