There's a place for you in your farming business – a place where you feel confident, where your passion inspires you to learn and your voice matters. Let's find it! 
Back by very popular demand, Understanding Your Farming Business (UYFB) – from our friends at the Agri Womens Development Trust – equips women in the sheep, beef and dairy farming sectors with the skills and confidence to fully participate in their farming business.
Launching with a new 'hybrid' face-to-face and online programme structure, it's about learning what drives your farming business, developing the confidence to step-in to decision-making and connecting with like-minded local women. 
Online delivery
To support farming women who aren't able to attend a programme in person, AWDT also offer an online version of UYFB. The course follows the same two-month tempo as the face-to-face programme, with scheduled Zoom sessions taking place one evening per week. Participants then work through the content, with their facilitators and each other, at their own pace. Find out more
Course dates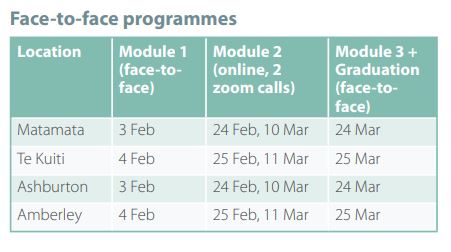 Download programme flyer (PDF, 520KB)
Registration
Registrations are now open.
Join the 2,200 Kiwi farming women who have graduated from UYFB and sign-up at https://www.awdt.org.nz/programmes/uyfb/